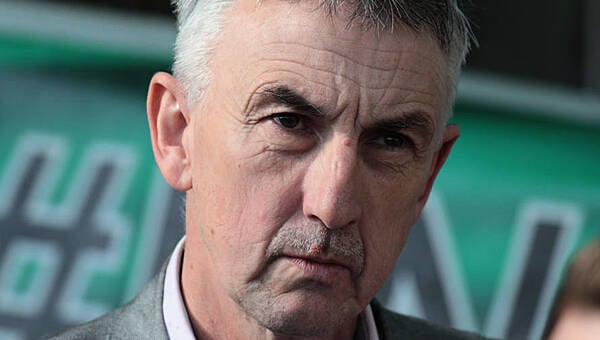 Eoin Reynolds
The father of garda-murderer Aaron Brady has been excluded from the Special Criminal Court after he published a "tendentious and offensive" video online in which he accused a garda of perjury and contempt of court.
Tony Brady has attended most of the trial of James Flynn and Brendan Treanor, who are accused of conspiring with Mr Brady's son to commit burglaries in 2012 and 2013. They are also accused of participation in the robbery of Lordship Credit Union during which Aaron Brady murdered Detective Garda Adrian Donohoe by shooting him in the head.
Before the trial resumed on Tuesday, Brendan Grehan SC, for the Director of Public Prosecutions (DPP), raised concerns about a video published online by Tony Brady, in which Mr Brady accused a garda of committing perjury and contempt of court when the garda gave evidence in the trial last week.
Mr Grehan said Tony Brady had abused his right to be present in court and was using information gained in court to abuse persons giving evidence. He said Mr Brady's online comments were "adverse to the administration of justice".
After showing a clip from the video to the court, Mr Grehan asked for Mr Brady to be excluded for the remainder of the trial.
When Mr Justice Tony Hunt asked Tony Brady to give a reason why he should not be excluded, Mr Brady apologised for arriving late to court.
"You are neither late nor early," Mr Justice Hunt replied. "You are not obliged to be here at all."
Opinion
Mr Brady said he was expressing an opinion and believes the observation he made in the video to be correct. Mr Justice Hunt told him that he is not entitled to make comments accusing someone of perjury and contempt of court. "That's not your decision," the judge said.
Mr Brady apologised and said he was not aware that he was not entitled to give an opinion.
Counsel for Mr Flynn and Mr Treanor said they had no objection to the prosecution's application to exclude Mr Brady.
Ruling to exclude Mr Brady, Mr Justice Hunt said he wanted to emphasise that there is no prohibition on people having opinions and that in the ordinary run of things the court cannot prevent people attending the trial and forming opinions.
However, the judge added: "But there are limits to how private opinions can be expressed in public." He said people coming to court are "entitled to a fair crack of the whip, be they guards or anyone else".
He said Mr Brady is entitled to have opinions but is not entitled to use his ability to attend court to "publish the kind of opinion published here" which, the judge said, went "way beyond" what the garda witness had actually said in his evidence.
Mr Justice Hunt said Mr Brady had abused his right to be present at the trial with the publication of the "tendentious and offensive" material which the judge said bore no relation to what happened in court.
Unconnected
Mr Justice Hunt noted the material published by Mr Brady was unconnected to the parties before the court and was irrelevant to what the court must decide in the trial.
He added that he was not making a finding of contempt of court against Tony Brady. The court, he said, is directing itself to the "preservation of the integrity of the participants in the process" by excluding Mr Brady from court for the remainder of the trial.
The trial has been sitting for more than 50 days and is expected to end this week.
Lorcan Staines SC, for the DPP, is continuing the closing speech for the prosecution on Tuesday.
Brendan Treanor (34), previously of Emer Terrace, Castletown Road, Dundalk, Co Louth, and James Flynn (32), from South Armagh, are charged with the robbery of €7,000 at Lordship Credit Union in Bellurgan, Co Louth, on January 25th, 2013.
Both men are also charged that between September 11th, 2012, and January 23rd, 2013, they conspired with convicted Garda-killer Aaron Brady and others to enter residential premises with the intention of stealing car keys.
The prosecution alleges that Mr Treanor and Mr Flynn were part of a group of young men who conspired to break into houses to steal car keys and then quietly make off with the cars.
They have pleaded not guilty to each charge.
Aaron Brady (31), previously of New Road, Crossmaglen, Co Armagh, is serving a life sentence with a 40-year minimum having been found guilty of murdering Det Gda Adrian Donohoe and of the robbery at Lordship. He denied any involvement in the robbery and is awaiting an appeal against his conviction.