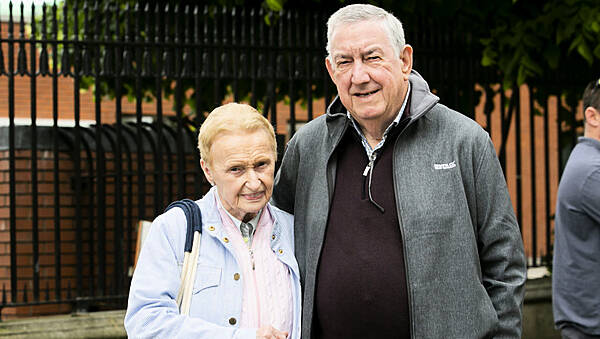 Fiona Magennis
A couple who lost their only child in the Stardust fire have spoken of their feelings of guilt and regret in allowing her to skip a family wedding so she could attend the dance that night.
Maurice and Phyllis McHugh also told the inquest of how they often wonder if their 17-year-old daughter Caroline called out for them for help as the flames burned her body.
"We would think about this often in the years that followed with broken hearts," Mr McHugh told the inquest, taking place in the Pillar room of the Rotunda Hospital.
"Caroline's young life was cruelly taken away from her that cold February Valentine's morning in that horrendous fireball."
The couple, who are now in their 80s, said a day "never goes by" without them thinking of their beautiful daughter "now lying in a cold grave buried six-foot underground, marked by a black marble stone engraved with her name on it".
Mr McHugh said Caroline was born in the Rotunda Hospital on July 1st, 1963, so it was ironic that the inquest into her death is now taking place in the same building, 42 years later.
He told the jury at the Coroner's Court how the couple visit Caroline's grave once a week "without fail", still grieving for their lost daughter "cruelly taken away from us so young".
He said he and his wife often discuss "what could have been" had Caroline not died in the fire that night. "Would she have had a successful career, got married, have children and have given us grandchildren?"
He said they feel they have "missed out on a lot", particularly around holidays like Christmas, Easter, birthdays and anniversaries when they see her cousins and their children, all the while thinking that Caroline should have been there.
"It makes us feel so sad and emotional and brings tears to our eyes," Mr McHugh said.
He said Caroline was a beautiful young lady with dark complexion and "lovely long black hair". An avid reader as a young girl and teenager, Caroline enjoyed Enid Blyton's books and romantic novels.
After finishing school in Loreto College on Stephen's Green, Caroline went to college where she sang in the choir, winning many awards in the Feis Ceoil.
"The choir was later to perform at Caroline's funeral mass with great sadness," Mr McHugh said.
Caroline also joined in many of the sporting events in the college and was a member of an Irish dancing school, performing in St Patrick's Day parades. She loved going swimming with her dad in the local swimming pool.
Mr McHugh remembered birthday parties and regular get-togethers when the house would be filled with friends and classmates having a great time together with music, singing and dancing.
After she left school, Caroline went to work in a large building services contractor, working in the estimating department where she got on extremely well with all the staff.
Mr McHugh also said Caroline was a member of the local CB club, and she and her friend Annmarie would spend hours in her bedroom using CB radios to chat with other members over the airwaves.
Wedding
He went on to explain how his wife had received an invitation to a family wedding in Manchester on Valentine's Day 1981, and they were all due to attend. Mrs McHugh, who was taught to bake by her father, who was the head baker in Bewley's of Grafton Street, made the four-tier wedding cake for the event as a wedding present.
However, a couple of weeks before the wedding Caroline told them she did not want to go and instead wanted to stay at home and go to the dancing competition in the Stardust with her friends.
Mr McHugh said they were "very reluctant" to allow her to stay, but her best friend's mother offered to look after her and they agreed as they would only be gone for two nights.
"We always regretted this decision and feel guilty about it to this day," he said.
On Friday, February 13th, the couple loaded the car with the carefully boxed wedding cake and made their way to the ferry.
"On the way, we dropped Caroline into her workplace. Little did we know that this was the last time we would see Caroline alive as she waved us off, smiling and saying 'enjoy yourselves' and 'don't do anything I wouldn't do' with a big smile."
The following morning, as they were walking to a nearby shopping centre, Mrs McHugh's uncle came after them to say there had been a fire in the Stardust nightclub and Caroline was missing.
Mr McHugh said the couple were "absolutely devastated" and began ringing home to family looking for an update on Caroline's whereabouts, but there was no news.
The earliest flight they could get back to Dublin was at 7pm, leaving from Liverpool. Mr McHugh relayed how, as there were no mobile phones back then, they had to use a coin box to ring home every half hour looking for updates on their daughter.
At lunchtime, a family friend who was a doctor was allowed into the morgue to see the bodies and thought one could be Caroline but was "not 100 per cent sure".
'Unrecognisable and unidentifiable'
Mr McHugh said as the couple made their way to Liverpool Airport, "not a word was spoken in the car such was our grief".
They were met at the airport by their families who brought them straight to the morgue. There, they were advised not to see their daughter because the severity of her burns meant she was "unrecognisable and unidentifiable".
By way of identification, the couple were given a piece of a back pocket of Caroline's jeans with a melted comb stuck to it, the melted remains of a wristwatch and a gold chain, partly melted, with Caroline's name on it.
Mr McHugh said the grief was "unimaginable" as the tears flowed.
He said they later received a call from gardaí telling them Caroline was in Stafford's funeral home on the North Strand.
"The coffin remained closed, and it was a horrible feeling that we couldn't see Caroline and we were deeply upset."
The wedding had also, understandably, been upset by the news of Caroline's death with the bride and groom both breaking down in tears during the speeches along with many of the guests, he told the inquest.
Mr McHugh said four of Caroline's friends escaped the blaze that night, although they were "mentally scarred" by what happened.
He said when the first tribunal was opened, the couple, "in our naivety", thought that "truth and justice" would be served.
"As we now know that never happened," he said, adding that now, 42 years later, they are hopeful that at the end of this fresh inquest they may get "some respite and closure to lessen the burden of our grief".
The couple each read a poem they had written about their beloved daughter, Mr McHugh's included the lines: "A father's love is the lasting kind; in my mind this movie stuck on rewind….Surviving on memories good and bad; that's all I've got now, the times we had."
Mrs McHugh also read a poem she had written for her daughter, which stated: "No words can tell, no tears express. The love, the loss, the emptiness. You're not just a memory, or part of the past. You are mine to remember, as long as life lasts."