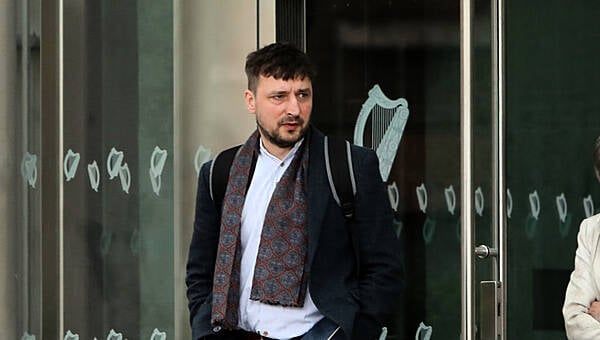 Tom Tuite
A former senator was arrested three times for public order offences during a 24-hour period in Dublin after he failed in his bid to enter as a candidate for a Seanad by-election, a judge has heard.
James Heffernan shouted "profanities" at a Trinity College Dublin (TCD) security man, gave bar staff the finger when he was refused service, and kicked and lashed out at gardaí before calling them c**ts and paedos, Dublin District Court was told on Tuesday.
Heffernan, with an address at Main Street, Kilfinane, Co Limerick, was found guilty of obstruction, being intoxicated to the extent he was a danger to himself and others, and using threatening and abusive words or behaviour with intent to provoke a breach of the peace during incidents on February 12th, and February 13th, 2022.
Judge John Cheatle imposed a four-month sentence, suspended on the condition Heffernan did not re-offend for 18 months.
Heffernan had 33 prior convictions, which included 14 offences under the Public Order Act, three assaults, thefts and road traffic offences.
The 43-year-old, who contested the charges, told the court he had been in Dublin on February 12th to hand in nomination papers to run in the Seanad by-election in TCD, but they were not accepted.
Garda Thomas McConville encountered Heffernan at around 5pm, and described him as being "highly intoxicated" and unsteady on his feet, and was abusing and "shouting profanities" at a TCD security man.
That night, Garda Seamus Barry had been dealing with a violent individual on the ground in Crown Alley in Temple Bar at about 1.25am. He suddenly felt a liquid pour over his back and turned to find Heffernan, who was holding a plastic container which he had discarded.
Garda Barry said the man he was arresting was screaming obscenities but was not asking for help.
Garda Joe O'Connor witnessed the incident in Temple Bar and spoke to the accused, who was intoxicated and almost immediately began abusing gardaí, calling them "c**ts and paedos".
He began to kick and shout as he was handcuffed and arrested for the second time in a matter of hours.
The garda said there was no CCTV footage from the Old Storehouse near the incident as their cameras did not point at the scene. The defence argued other cameras should have been checked.
Alcohol
Heffernan claimed the man under arrest was gasping and could not breathe, prompting him to speak to gardaí. He denied pouring the drink on the garda or shouting verbal abuse.
Garda Barry said at 5.30pm that day, he met the accused "unsteady on his feet" at Jervis Street, and said there was a strong smell of liquor from Heffernan, who gave the middle finger to staff in TP Smiths pub.
The court heard he had been refused service after entering with an opened can of the non-alcoholic energy drink Monster. He denied that he had been drinking alcohol earlier that day.
Heffernan told the court he understood pub etiquette and finished the energy drink outside. However, he claimed he was refused service "without a valid reason" when he re-entered the pub to order a hot whiskey.
He admitted he had been dishevelled and sleeping rough the night before.
Defence counsel Maeve MacCabe submitted that Heffernan's behaviour was rude and annoying but not threatening, and one out of the six charges was dismissed.
Pleading for leniency, counsel said Heffernan had a "spectacular fall from grace". The court heard he had been diagnosed with bipolar disorder and completed treatment for alcohol addiction, and "having battled his demons now helps other people battle theirs".
Counsel added Heffernan is halfway through a community and addiction studies degree course at the Technological University of the Shannon.
Garda O'Connor told the court the accused now looks like a different person.
Heffernan, a qualified primary school teacher and a former member of Limerick County Council, was elected for Labour to the 24th Seanad in 2011.
He lost the party whip the following year when he voted against budget cuts and joined the Social Democrats in 2015 but failed to secure a seat in the 2016 general election.