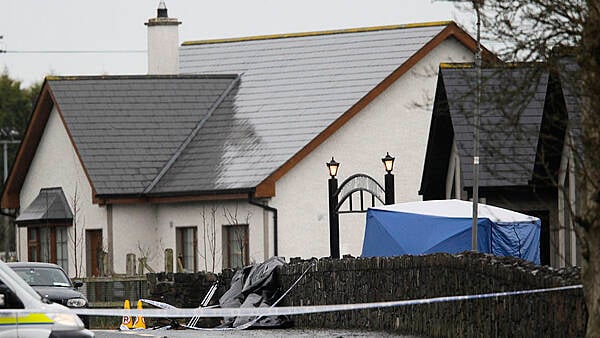 Eoin Reynolds
A tattoo allegedly glorifying the robbery in which Det Gda Adrian Donohoe was shot dead was an "act of hubris" by one of the men on trial for the robbery, a barrister has told the Special Criminal Court.
Lorcan Staines SC completed his lengthy closing speech to the three-judge, non-jury court this afternoon in the trials of two men accused of a series of creeper burglaries and of participating in the fatal robbery at Lordship Credit Union in January 2013.
Mr Staines said it was "extraordinary" that one of the accused, Brendan Treanor, had chosen in 2018 to get a tattoo on his back that counsel said has a number of elements which are "striking" coincidences to what happened at Lordship.
Mr Staines pointed out that Mr Treanor had made a statement to police in Northern Ireland shortly after the robbery because he had been named online as the person who shot Det Gda Donohoe and his pixelated picture appeared in two national newspapers with one calling him a "thug".
Mr Treanor had also received a notice from the Police Service of Northern Ireland (PSNI) that there were threats to his life from dissident republicans.
Tattoo
Five years later, Mr Staines said, the accused had the large tattoo printed on his back "perhaps at a time when Mr Treanor felt long enough had gone by, and he had got away with what he had done."
Mr Staines said this was an "act of hubris" on Mr Treanor's part. Describing the tattoo, counsel said a BMW car in the foreground with the licence plate "Boss BFT" was Mr Treanor's own car, which he used to "tell the world that he, Brendan Treanor, was the boss".
Counsel said it is a "striking coincidence" that on the left of the tattoo there are four gangsters and on the right the face of a woman wearing a balaclava and holding a firearm. Mr Staines pointed out that there were four raiders in the Lordship car park who carried out the robbery while there was a suggestion at one point that the driver of the getaway car was a woman.
Mr Staines added: "Mr Treanor, glorifying the position he held in the operation, has chosen to place on his back these four gangsters and the person wearing the balaclava."
He added that one of the four gangsters is holding a long-barrelled firearm pointing over the car in circumstances where the evidence heard shows that Det Gda Donohoe was shot with a long firearm. The tattoo also contains images of bullets, rolls of cash, two other firearms and a knuckle duster.
Mr Staines said that in the context of Mr Treanor having been appointed as a suspect on social media, in the national media and by dissident republicans, "the choice of putting this particular tattoo on his back is really an extraordinary thing for a person in his position to do.
Charges
Brendan Treanor (34), previously of Emer Terrace, Castletown Road, Dundalk, Co Louth, and James Flynn (32) from South Armagh are charged with the robbery of €7,000 at Lordship Credit Union in Bellurgan, Co Louth, on January 25th, 2013.
Both men are also charged that between September 11th 2012, and January 23rd 2013, they conspired with convicted Garda-killer Aaron Brady and others to enter residential premises with the intention of stealing car keys.
The prosecution alleges that Mr Treanor and Mr Flynn were part of a group of young men who conspired to break into houses to steal car keys and then quietly make off with the cars.
They have pleaded not guilty to each charge.
Aaron Brady (31) previously of New Road, Crossmaglen, Co Armagh, is serving a life sentence with a 40-year minimum having been found guilty of murdering Det Gda Adrian Donohoe and of the robbery at Lordship. He denied any involvement in the robbery and is awaiting an appeal against his conviction.
In considering the court's verdicts, Mr Staines said they must consider the evidence relating to the burglaries and the robbery cumulatively.
He suggested they start with evidence that on January 11th 2013 phones attributed to Mr Flynn, Mr Treanor, Aaron Brady and a fourth person of interest were calling one another in the middle of the night, pinging off phone masts in Mullingar, Co Westmeath.
On the same night, he said, there were two burglaries in Mullingar. In one of those burglaries a satnav was stolen from a car and was later found in the possession of James Flynn's father, Eugene Flynn Snr.
When gardaí nexamined the satnav they found that it made a trip to Belfast from James Flynn's home in Bellurgan, Co Louth at the same time that CCTV shows a vehicle leaving Mr Flynn's home. The satnav then went to Belfast Airport at a time consistent with James Flynn traveling to OId Trafford to watch Manchester United.
Mr Staines said the court could be "absolutely satisfied" that those four people were in Mullingar that night burgling houses and stealing cars.
Mr Staines asked the court to then look at dates prior to January 2013 and after that when phones attributed to some or all of the accused and Aaron Brady were in rural areas in Cavan and Monaghan when similar burglaries took place.
In one burglary in October 2012, documents were taken which were later found in the house where Aaron Brady lived and where Mr Flynn and Mr Treanor said they spent time on the day of the Lordship robbery.
Mr Staines asked if any jury, having considered that evidence, could accept the statements of Mr Flynn and Mr Treanor that on January 22md 2013 they got together with Aaron Brady for a "social, amicable interaction" involving eating pizza and chicken curry.
Mr Staines said the jury would have to consider evidence that counsel said shows that Mr Flynn, Mr Treanor and Brady stole a Volkswagen Passat that would be used in the robbery from outside a house in Clogherhead.
He asked the court to also consider that the phones of the five people allegedly involved in the Lordship robbery all went silent a short time before the Lordship robbery. Mr Staines said that before the silence period Mr Treanor was "furiously" trying to contact Brady at a time when Mr Treanor claims he was at home watching television.
Mr Staines asked was it an "unfortunate piece of luck" that later that same night Mr Treanor's phone stopped working because, as the accused put it, his phone fell in the bath while he was washing his bichon frise.
Mr Staines asked the court to consider what he called "coincidence after coincidence after coincidence". He said that on the totality of the evidence, it is "one or ten or 20 coincidences too far" and that the jury should be "in a position where they could no longer stomach the coincidences disclosed by the evidence."