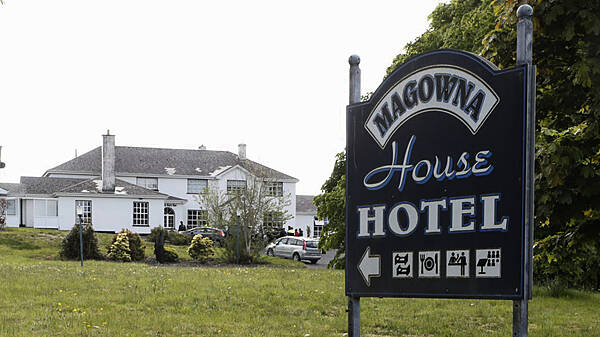 Updated: 12.10pm. Additional reporting by Vivienne Clarke.
Tánasite Micheál Martin has said there is "no need" for a blockade which has been set up near a former hotel in Co Clare following the arrival of a group of asylum seekers.
Magowna House in Inch, which closed in 2019, was chosen to accommodate 34 international protection applicants, who arrived at the facility on Monday.
Following their arrival, some locals used tractors and cars to block the roads around Magowna House, criticising the Government over the lack of consultation on the matter. A protest is also being staged at the Clare County Council building in Ennis.
Last year, Magowna House was deemed unsuitable to house refugees, according to Clare TD Cathal Crowe, who is due to meet with Minister for Integration Roderic O'Gorman on Tuesday to discuss the issue.
Commenting on the blockade, the Tánaiste said: "We will engage with the local people community to ease any concerns they might have, and also to facilitate the hosting and the housing of these particularly asylum seekers.
"I would ask that that level of engagement and cooperation would take place, and that that there's no need for the blockades."
Earlier, Mr Crowe told RTÉ radio's Morning Ireland there were concerns over the building's fire certification and sewerage system.
He noted the building had not been ready to house refugees last year, and it did not appear to be ready now as the people who arrived on Monday night were "crammed into" ancillary buildings.
"This is being rushed into," Mr Crowe said, however, the Fianna Fáil TD said he did not personally agree with the roads being blocked, but acknowledged the locals' right to protest and express their concerns.
Mr Crowe said he has passed on his concerns to the council, the fire service and the HSE, adding that if people were going to be brought to the facility then it should be safe.
He added Clare was very welcoming, with 3.5 per cent of the county's population being refugees or asylum seekers.
He stressed the issue at hand was the suitability of the site at Magowna House, adding it is necessary to ensure the quality accommodation for asylum seekers meets a base-level.
One of the drivers of the tractors, who did not want to provide his name, said locals had concerns about fire safety and sewage management on the site.
He said they expected another bus to arrive and that the asylum seekers were being moved "underhandedly".
"So we stopped the roads, we blocked the roads so a second bus could not get in.
He said this was because there would be "70 people in this locality with nowhere to go".
He questioned how the asylum seekers would integrate into the community. Protesters said they would not prevent an asylum seeker from leaving.