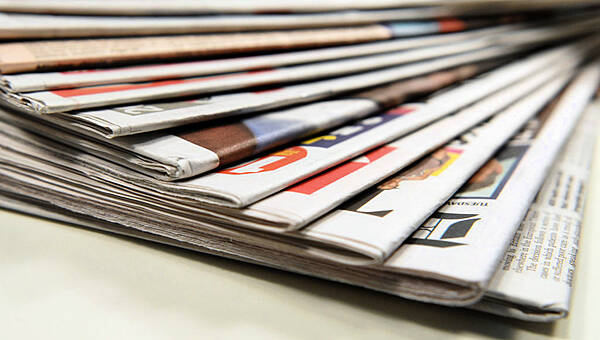 A 'growing reluctance' in local councils to accommodate Ukrainian refugees, and garda fears of increasing violence at anti-immigration marches are among the stories on Tuesday's front pages.
The Department of Integration privately warned that officials were seeing a "growing reluctance" from some local authorities to accommodate more Ukrainian refugees, The Irish Times reports.
Gardaí lack the personnel and training to deal with violent far-right marches, the Irish Examiner reports.
Drinks companies will fight plans to put cancer warnings on alcohol labelling, the Irish Independent reports.
Rents in Cork city are 'far too high', The Echo reports.
The Irish Daily Star leads with a story on Daniel Kinahan's continued involvement in boxing.
Tuesday's front page pic.twitter.com/q4ocgmyg6N

— Irish Daily Star (@isfearranstar) May 16, 2023
There are not enough gardaí on the streets to combat attacks on refugees, the Irish Daily Mail reports.
Don't miss your fantastic Good Health pullout every Tuesday in the Irish Daily Mail. pic.twitter.com/CeeREJ9rQN

— The Irish Daily Mail (@irishdailymail) May 16, 2023
The Irish Sun leads with a story on convicted rapist and kidnapper Larry Murphy.
Today's Irish Sun. pic.twitter.com/BI1V8uRo5Q

— The Irish Sun (@IrishSunOnline) May 16, 2023
The Herald leads with a story on the murder of Gary Carey.
In the North, the Belfast Telegraph and The Irish News lead with a man and woman challenging their dismissals after they both shared a Facebook livestream of people singing about the murder of Michaela McAreavey.
Today's #FrontPage

County boards deny knowing about Gallagher claims

Man involved in video mocking Michaela takes tribunal action

Read: https://t.co/JyzDL4zLBq

Subscribe: https://t.co/y5tlLNKqEJ

Home Delivery: https://t.co/I1gVh0j2z1 pic.twitter.com/GI7jGGTFtZ

— The Irish News (@irish_news) May 16, 2023
The UK home secretary's speech to the National Conservatism Conference leads several of the British papers.
The Daily Express reports Suella Braverman used her speech to encourage white people not to feel guilty about Britain's historical role in slavery.
Tuesday's Express Front Page – Suella: White people should not feel guilty#TomorrowsPapersToday https://t.co/wePtTsTBNM pic.twitter.com/FoSUD4mmKO

— Daily Express (@Daily_Express) May 15, 2023
Meanwhile, Metro leads with her comments encouraging Britons to train as fruit pickers as she said: "…we mustn't forget how to do things for ourselves."
Tomorrow's Paper Today 📰

SUELLA'S PICKING TIMEBOMB

🔴 Home secretary piles pressure on PM as net immigration hits 700,000

🔴 No good reason Brits can't be trained to be fruit pickers, says hardliner Braverman#TomorrowsPaperToday pic.twitter.com/J3xXb7deQX

— Metro (@MetroUK) May 15, 2023
The Telegraph reports the UK Home Office is anticipating a sharp rise in immigration by the next election.
The front page of tomorrow's Daily Telegraph:

'Ministers warned of sharp rise in immigration by election'#TomorrowsPapersToday

Sign up for the Front Page newsletterhttps://t.co/x8AV4OoUh6 pic.twitter.com/0HtvKx83M5

— The Telegraph (@Telegraph) May 15, 2023
The Guardian says senior Tory MPs have accused Ms Braverman of trying to undermine the UK prime minister.
Guardian front page, Tuesday 16 May 2023 – Tory MPs tell Braverman: quit the PM pitch and stick to the day job pic.twitter.com/FvYic4pcp7

— The Guardian (@guardian) May 15, 2023
Elsewhere, the Daily Mail reports UK levelling up secretary Michael Gove has challenged Labour leader Sir Keir Starmer to respond to accusations that he wants to undermine Brexit by granting EU citizens the right to vote.
Tuesday's @DailyMailUK #MailFrontPages pic.twitter.com/htmYSYzRZU

— Daily Mail U.K. (@DailyMailUK) May 15, 2023
The i leads with the UK throwing its support behind Ukraine's bid to join Nato.
I: UK backs Ukraine to join NATO #TomorrowsPapersToday pic.twitter.com/Yj0DIerdde

— Neil Henderson (@hendopolis) May 15, 2023
The Times carries analysis from the Institute for Fiscal Studies which shows a fifth of all taxpayers are in the 40p rate of income tax.
TIMES: Fifth of all taxpayers will now be in 40p band #TomorrowsPapersToday pic.twitter.com/VeIXQyOxcL

— Neil Henderson (@hendopolis) May 15, 2023
Turkey's president Recep Tayyip Erdogan is on course to retain power following voting in the country's closely fought national election, according to the Financial Times.
Just published: front page of the Financial Times, UK edition, Tuesday 16 May https://t.co/YViOSPxqVu pic.twitter.com/RcSthgXDI8

— Financial Times (@FinancialTimes) May 15, 2023
The Independent continues its campaign to halt the deportation of an Afghan pilot to Rwanda.
INDEPENDENT DIGITAL: If you think he's a hero, why don't you save him? #TomorrowsPapersToday pic.twitter.com/yMSb3LlLaX

— Neil Henderson (@hendopolis) May 15, 2023
The Daily Mirror leads with a British man telling a court that his cancer-stricken wife asked him to kill her.
Tuesday's front page: I loved my wife…she begged me to kill her #TomorrowsPapersToday https://t.co/ELvy23lUWF pic.twitter.com/gNbDyAstMJ

— The Mirror (@DailyMirror) May 15, 2023
And the Daily Star says mass UFO sightings have been reported in Belgium.
Tuesday's front page: Close encounters of the boring kind…💤#TomorrowsPapersTodayhttps://t.co/UdPSPZykLJ pic.twitter.com/xc1Z9I13yJ

— Daily Star (@dailystar) May 15, 2023