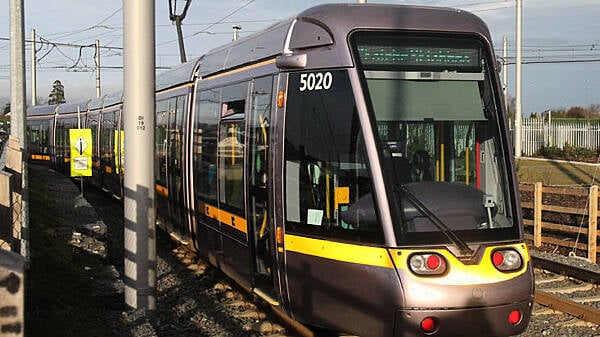 Seán McCárthaigh
Over 1,000 complaints about anti-social behaviour on Luas services were made by members of the public last year – the second-highest annual total in the past decade.
New figures published by the National Transport Authority show a total of 1,001 reports of anti-social behaviour were made to the Luas Call Centre during 2022 – an annual increase of 27 per cent.
In comparison, the annual number of such complaints in pre-Covid years about Luas services averaged just over 400 before it peaked in 2020 with more than 1,200.
The figures also reveal that complaints about problems with ticket vending machines at Luas stops on the Red and Green Lines as well as ticket validators reached record levels last year.
More than 2,100 issues with ticket machines were logged by the Luas operator, Transdev – up seven per cent on 2021 figures,
During 2022 there was also more than a threefold increase in the number of complaints about problems with Leap Card validator equipment with 295 incidents being reported – up from 87 in 2021.
The figures show that complaints about disruptions to Luas services also rose by 23 per cent to 1,065.
However, the overall number of complaints across all aspects of Luas services was down 45 per cent last year to a record low annual total of 3,296.
The sharp drop in overall complaints is largely due to a sizeable reduction in complaints classified as "other" – down from 1,629 in 2021 to 429 last year.
Most of such complaints were related to what Transdev categorised as "Covid-19" issues which decreased from 1,200 to 188 in 2022.
It comes against a background where there were over 33 million passenger journeys on Luas services last year – up from 19.5 million in 2021 – as most of the travel restrictions associated with the pandemic were eased.
A spokesperson for Transdev acknowledged the increase in complaints about anti-social behaviour on Luas services during 2022.
However, the spokesperson said it reflected the significant increase in passenger numbers as well as "an increased awareness by customers of the need to report anti-social behaviour if they witness it."
The company admitted there was a problem with vandalism of equipment, particularly with groups of youths aged 10-15 targeting ticket machines and validators.
However, the spokesperson said gardaí juvenile liaison officers had cautioned some of the offenders involved in such activity.
Transdev pointed out that customers can report such incidents by texting the word Luas to 51444 or notifying its staff.
The latest figures also show there has been a decrease in the number of complaints about overcrowding on Luas trams, clamping of vehicles at park and ride facilities and alleged personal injuries suffered by passengers.
A total of 50 people claimed they incurred an injury while travelling on a Luas tram last year – less than half pre-Covid levels.
Transdev did not provide a breakdown of various types of complaints between Red and Green Line services.
The company spokesperson said the satisfaction rate with Luas services earlier this year was recorded at 95 per cent with customers commenting on the punctuality, frequency and reliability of its services.
Performance reports filed to the NTA show overall reliability of Luas operations during 2022 was measured at 93.5% – with a rate of 96.3 per cent for Green Line services and 90.7 per cent for Red Line services.