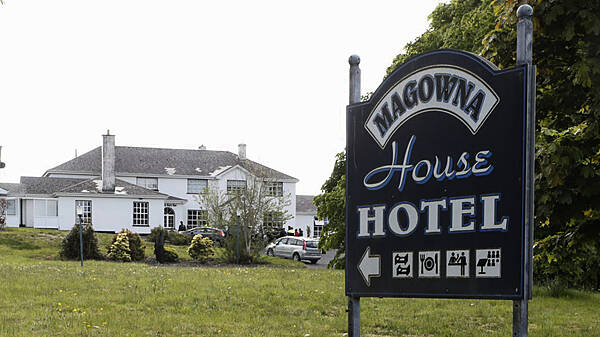 Vivienne Clarke
The CEO of Doras, John Lannon, a Limerick-based human rights and migrant support non-governmental organisation has called for greater community engagement and better resources to deal with situations such as the protest at Magowna House in Inch, Co. Clare.
Mr Lannon told RTÉ radio's Morning Ireland that it had been "really disappointing" to see people blockading a road "that young frightened men have to use.
"These are men who've probably escaped from horrendous situations, possibly been tortured, maybe lost loved ones. But we are, it seems, at a crisis point now when it comes to reception and accommodation of asylum seekers.
"I have to mention that the Department of Children have done tremendous work securing accommodation for over 80,000 people from Ukraine as well as international protection applicants, but they're still operating from day to day trying to find enough beds, despite the fact that they've been responding to a large number of arrivals for over a year.
"If we look at how we've got to where we are now we see that certainly far right misinformation and lies, organised protests have contributed, but so has poor communication from Government as well as the lack of resources for proper community engagement.
"The public need to understand why refugees are here. What the medium to long term plan is for their accommodation and integration, and why they need to help. And it's really important that everyone knows that asylum seekers, including men, are here legally and should be treated with the same dignity and respect as everybody else".
Mr Lannon added that recognising and supporting the work that's being done at community level was really important as was ensuring that staff in community development organisations have the resources to engage with host communities and with refugees in the field.
The location of Magowna House was not an ideal location for asylum seekers. "We know from our engagement over the years that people will make the most of poor conditions if they know it's temporary and if they're shown a welcome and treated with the dignity and respect that everyone deserves. And that means giving proper information about their situation, then they can live with less than ideal conditions.
"Of course, this should not be an excuse for poor standards in emergency accommodation. We can tolerate that, same as we wouldn't accept it in nursing homes or schools or anywhere else".