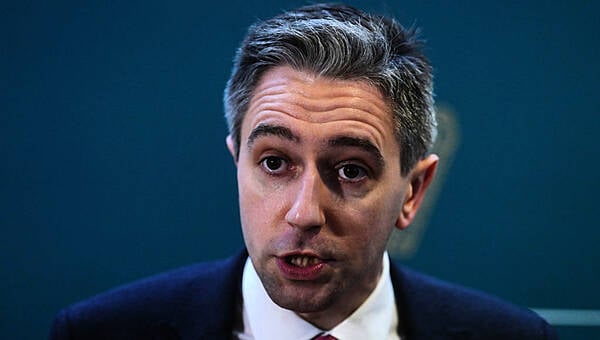 Cillian Sherlock, PA
The Minister for Justice has said the "fundamental weapon" against sexual violence is prevention.
Simon Harris said the State's latest statistics on domestic sexual and gender-based violence (DSGBV) underline the need for the Government's five-year reform around a "zero-tolerance approach".
Mr Harris said a key part of this reform is the establishment of a new statutory DSGBV agency, which has received government approval and is intended to be running by next January.
The Government also intends to double the number of refuge spaces over the lifetime of its third national strategy on DSGBV and to introduce new DSGBV offences and increase maximum sentences for perpetrators.
Mr Harris outlined other measures including the introduction of trained intermediaries and training for frontline professionals.
"We know the importance of criminal justice, of strong legislation, of reporting of supports for victims, of a coordinated approach in our work with victims.
"But I believe the fundamental weapon that we have in the face of sexual violence is and always will be prevention."
Mr Harris said the Government was "deeply committed" to victims.
"We continue to work to improve our criminal justice system to make it more victim centred and ensure that victims have the confidence to report what has happened to them, confident in the knowledge that they will be supported at every point, and by everyone they encounter on their journey.
The Dáil was hearing statements on the Central Statistics Office's Sexual Violence Survey, which was published last month.
It found that 40 per cent of adults experience sexual violence in their lifetime, with women experiencing higher levels (52 per cent) than men (28 per cent).
Mr Harris said the "shocking" survey showed that 18 per cent of adult women and 3 per cent of adult men had been raped, adding this was "difficult to comprehend and say out loud".
He said there was a need to understand the full breadth of the problem.
The survey also found that younger people reported higher levels of sexual violence than older people, with 22 per cent of those aged 18-24 experiencing sexual violence both as an adult and as a child compared with 8 per cent of those aged 65 and over.
Four times more women (21 per cent) than men (5 per cent) reported experiencing non-consensual sexual intercourse over their lifetime.
One in 10 women experienced non-consensual sexual intercourse as an adult when they were unable to give consent, for example when they were asleep or under the influence of alcohol or drugs.
Almost one in five (17 per cent) men aged 25-34 experienced non-consensual sexual touching as an adult.
Minister Hildegarde Naughton said "the incidence of sexual violence is very high".
One in five adults experienced unwanted contact sexual violence as a child (20 per cent) and a similar number experienced unwanted non-contact sexual violence (19 per cent).
More than three-quarters of adults who experienced sexual violence at least once in their lifetime knew the perpetrator, and this figure differed little between women and men.
Fewer than half of adults who experienced sexual violence in their lifetime told someone about it.
Sexual violence was defined in the survey as a range of non-consensual incidents, from non-contact experiences to non-consensual sexual intercourse.
Mr Harris said the CSO will alternate surveys on domestic violence and sexual violence every five years.
"This will help us keep our national data up to date," he said.
Sinn Féin justice spokesperson Pa Daly said the survey was a "sobering reminder" of the importance of a national strategy on DSGBV.
"For so long, the biggest roadblock for victims has been the lack of reporting, as well as being met with silence and disbelief or even denial."
He called for a broader range of information gathering.
"Better statistics on sexual violence must be our starting point and we currently lag significantly behind the United Kingdom when it comes to this.
"The gathering of data over there includes information on age, gender, ethnicity and so many other areas.
"I suspect that if we keep this data on a more regular basis, we will quickly learn the nature of sexual violence in the State and be in a better position to address it."
He said the Director of Public Prosecutions has asked for more resources for the gathering of data.
Mr Daly also called for more refuge spaces while his party colleague Louise O'Reilly said "funding has to follow the data".
"As a society we need to do a lot more to help victims speak out and ensure that they are respected and that they are believed and that they feel empowered to be able to come forward," she said.
---
If you have been affected by any of the issues raised in this article, you can call the national 24-hour Rape Crisis Helpline at 1800-77 8888, access text service and webchat options at drcc.ie/services/helpline/, or visit Rape Crisis Help.
In the case of an emergency, always dial 999/112.