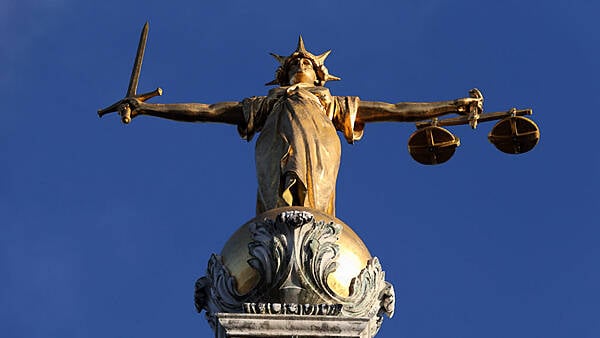 Ray Managh
A driver who crashed into the side of another vehicle drew a knife on the victim following the collision in November 2019, the Circuit Civil Court has heard.
John Fitzsimons, a heavy goods vehicle driver living in Dublin 20, was injured in the collision and was then threatened by the other driver at the scene, the court heard.
Mr Fitzsimons told his barrister Conor Kearney his car had been struck after the other vehicle changed lanes at Adamstown Village, Lucan, Co Dublin. Following the collision, four men got out of the other vehicle, one of whom had drawn a knife from his pocket.
Mr Kearney, who appeared with Blake Horrigan Solicitors, said his client had suffered psychological injuries as a result of what had been an assault at the scene of the collision, as well as both psychological and physical injuries arising from the crash itself.
Liability for the crash by the uninsured car had been conceded.
Barrister Robert O'Geibheannaigh, counsel for the Motor Insurers Bureau of Ireland (MIBI), which compensates victims of uninsured drivers, told the court that in his statement to the bureau, Mr Fitzsimons had clearly identified the driver of the uninsured car as the man who had produced a knife from his pocket.
Mr O'Geibheannaigh said Mr Fitsimons' defence team at an early stage of the proceedings had acknowledged the fact there was no right of recovery from the MIBI of damages relating to psychological or criminal issues arising as a result of assault.
"Damages for psychological injury cannot be sought and any compensation the court considers due to the plaintiff in this assessment should be confined to physical injury only arising from the accident," Mr O'Geibheannaigh said.
'Unsavoury exchanges'
Mr Fitzimons (59) had sued Zac Cali, with an address in Lucan, Co Dublin, and the MIBI for damages of up to €60,000, claiming Mr Cali had acted in a threatening manner and pulled a knife on him at the scene.
As a result of the incident, Mr Fitzimons claimed he suffered an acute stress reaction.
In agreed medical reports, Mr Fitzsimons was stated to have felt acutely anxious following the incident "which involved a verbal altercation and threats of violence with a weapon".
Judge James McCourt heard Mr Fitzsimons had told doctors there had been four "overseas foreign" men in the car which had collided with his vehicle, adding it had been the driver who had drawn the knife.
Judge McCourt said there had been "unsavoury exchanges" at the roadside, and he could not see how one could not distinguish a psychological element arising from the collision, adding that was not to say there had not been some element of threat visited upon Mr Fitzsimons that had caused him some psychological injuries.
Awarding damages of just under €17,600 and costs, the judge said Mr Fitzsimons had suffered both physical and psychological injuries arising from the crash.