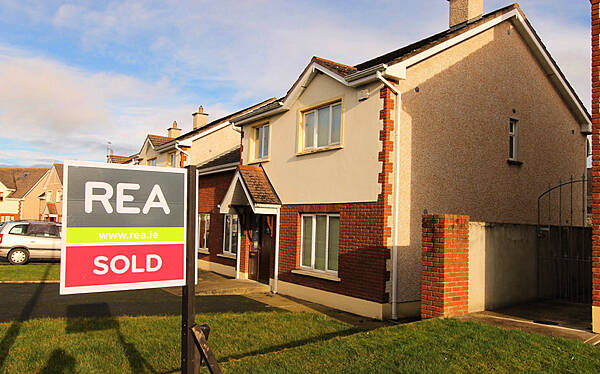 Kenneth Fox
The national Residential Property Price Index increased by 3.9 per cent in the 12 months to March 2023, according to data from the Central Statistics Office (CSO).
Prices in Dublin rose by 1.7 per cent and prices outside Dublin up by 5.7 per cent.
In March 2023, 4,132 dwelling purchases by households at market prices were filed with the Revenue Commissioners, up by 5.4 per cent compared with the 3,921 purchases in March 2022.
The median price of a dwelling purchased in the 12 months to March 2023 was €310,000.
The lowest median price for a house in the 12 months to March 2023 was €154,000 in Longford, while the highest median price was €635,000 in Dún Laoghaire-Rathdown.
Commenting on the release, Viacheslav Voronovich, statistician in the prices division, said: "Residential property prices rose by 3.9 per cent in the 12 months to March 2023, down from 5.1 per cent in the year to February 2023, and from the high values of 15.1 per cent in the 12 months to February and March 2022.
"In Dublin, residential property prices saw an increase of 1.7 per cent, while property prices outside Dublin were 5.7 per cent higher than a year earlier.
"In Dublin, house prices increased by 1.6 per cent and apartment prices were up by 2.1 per cent. The highest house price growth in Dublin was in South Dublin at 6.9 per cent, while Dublin City saw a decline of 1.2 per cent."
Outside Dublin, house prices were up by 5.9 per cent and apartment prices rose by 2.6 per cent.
The region outside of Dublin that saw the largest rise in house prices was the Border (Cavan, Donegal, Leitrim, Monaghan, Sligo) at 8.4 per cent, while at the other end of the scale, the Mid-West (Clare, Limerick, Tipperary) saw a 2.8 per cent rise.
The most expensive Eircode area over the 12 months to March 2023 was A94 'Blackrock' with a median price of €750,000, while F35 'Ballyhaunis' had the least expensive price of €126,000."
Meanwhile, the director of Auctionera, Helen O'Keefe said: "Today's index results for March 2023 from the CSO are what was generally expected by the industry. Deceleration of growth has continued with over a full percentage point reduction witnessed nationally between February's figures in comparison to March.
"It's still important to note that price growth still exists for those vendors who are wondering whether it is a good time to come to the market.
"The latest Daft Rent Report for Q1 indicated that the average monthly rent in Dublin city centre is just over €2,300 so despite interest rate increases, it is still cheaper for many to buy than rent thus at Auctioneera, we're still seeing high attendances consistently at viewings."