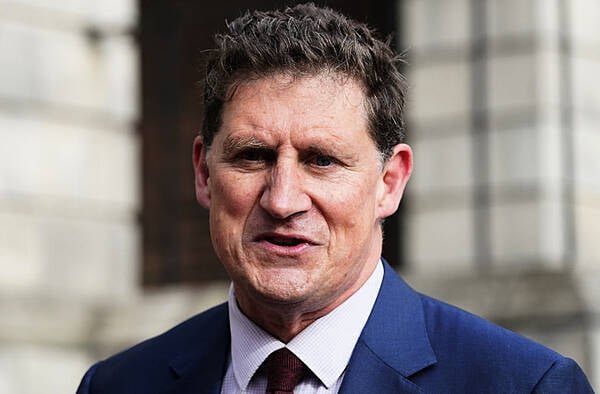 Gráinne Ní Aodha, PA
People in rural areas may benefit more from using electric vehicles than those in urban settings, Minister for Transport Eamon Ryan has suggested.
The Green Party leader said this is because in urban areas, people would face the "frustration" of not being able to charge their electric vehicles (EVs) at home due to not having a driveway.
Mr Ryan was responding to questions about how the transport sector would reduce its emissions by 50 per cent by 2030, benchmarked against 2018 levels.
The Government's Climate Action Plan sets out its ambition to reduce Ireland's carbon emissions by 50 per cent by 2030, with a 50 per cent reduction in the transport sector required.
The 2023 update to the plan includes a 20 per cent reduction in total vehicle kilometres, a reduction in fuel usage, and significant increases to sustainable transport trips.
The Government is also aiming to have 180,000 electric vehicles on the State's roads by 2025 and 936,000 by 2030.
Speaking to an Oireachtas Committee on Transport and Communications, Mr Rayn said the focus needed to be on what could be done in the next two to three years rather than the end of the decade.
He said there had been a "huge increase" in the use of public transport in the last year, driven by the 20 per cent reduction in fares, with a 60 per cent reduction for people under 24.
"We're not going to reverse that, in my mind," he said.
When asked how the 20 per cent reduction in vehicle kilometres would be achieved, Mr Ryan said that the number of days people spent in the office had "roughly halved" since before the Covid-19 pandemic.
"We are ahead of schedule in terms of the rollout of EVs," he said.
"I believe that the role of electric vehicles in rural Ireland … the benefits are going to be felt first, because in truth, one of the challenges we have in urban areas is how you charge the car if you don't have a driveway, and that's much less of a problem in rural Ireland where a lot of the houses are on their own, one-off houses in the country and there you don't have a challenge in terms of how you charge and that then makes it much easier to get high levels of deployment of EVs.
"In the very near future, we can expect pretty much all car manufacturers to have an electric offering.
"I think that's going to be as beneficial to rural (users) and if not more beneficial, because a lot of people in urban Ireland will have the frustrating experience that they can't charge at home, whereas in rural Ireland that will be a lot less of a problem."
Sinn Féin TD Martin Kenny said investment was needed to increase the number of electric charging points around the country.
The Joint Committee on Transport and Communications chaired by Committee Leas-Chathaoirleach @gerryhorkan meets today at 1:30pm.
Press Release➡️ https://t.co/s8VXRphLzs#SeeForYourself on #OireachtasTV at https://t.co/MQHAddqkxO pic.twitter.com/ikjoR83fBu

— Houses of the Oireachtas – Tithe an Oireachtais (@OireachtasNews) May 17, 2023
Chair of the committee Senator Gerry Horkan said while the shift to working from home may have helped reduce emissions in the transport sector, it may have led to an increase in electricity emissions due to people heating their homes.
"How do we get the shift you're looking for? We can build all the cycle lanes, but how do we get people out of their cars, particularly younger people?" he said.
Mr Ryan told the Fianna Fáil senator that the way to encourage more people to cycle was to make cycling safer.
"On the bike-cycling, I think first and foremost we've got to make it safe. I think what's stopping at the moment is a sense of hazard and that's understandable."