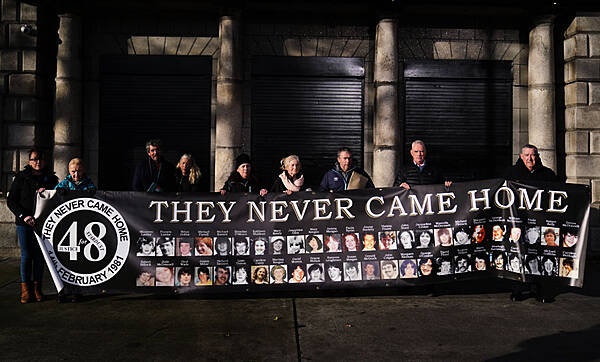 Ryan Dunne
The death of a 19-year-old man in the Stardust fire destroyed his grieving parents, his brother has told the inquest, adding that the manner in which things were "pushed under the carpet" in the wake of the disaster was "an insult to everyone who died and all those loved ones who were affected".
"We can't change our past, but we should learn to accept that the way this was handled was wrong and could have been avoided," Alan Morton told the jury on Wednesday at the Dublin District Coroner's Court.
Mr Morton delivered a pen portrait of his brother, David, who was one of 48 people killed when flames swept through the Stardust nightclub in the early hours of February 14th, 1981.
"David, or 'Chesty' as he was known to his mates, was six years older than me, so from my perspective there was no getting away from the fact that he would always be the big brother, and we were very much like chalk and cheese," Alan said.
He said football-mad David got the nickname 'Chesty' as he was happier having a shirt covered in mud than having a dirty ball mess his mane of dark hair.
Alan added their parents, especially their mum, pushed David to stay on at school to get a good education and job, but David had other ideas, as all he wanted to do was leave school and get a job.
"He was suddenly starting to have an interest in clothes, music and girls and knew the only way he could have these was with a job as things were tight back then for my parents," Alan said.
"I'm sure David had plans to eventually settle down, but again, he was only 19 when he died and had a whole life ahead of him."
Alan added he will always remember the night his parents received news of a fire in the Stardust, recalling that his brother wore a David's star around his neck, which was later used to identify him.
I don't believe any parent will ever get over it
"I'm sure my parents did everything they could to hold it together, but I could see the effect and impact it was having as the days progressed," he said.
"No parent ever wants to bury a child. We all try to be strong but no matter what, I don't believe any parent will ever get over it. I know for a fact that the death of my brother destroyed my mum and of course my dad. Both tried to deal with it as best they could. Unfortunately, back then the support probably wasn't what it's like today."
He said the family dealt with the situation as best they could. Their mother tried her best, but their father struggled, and being "a typical Irishman" meant bottling everything up inside.
"We would visit the grave every Sunday. I hated it, I didn't understand, but deep down I wanted to support my parents," Alan said.
"I always think of my brother when I return to Dublin. I make every effort to visit the grave and have a chat; it's not something that comes naturally. The funny thing is I never celebrated Valentine's Day, even to this day it doesn't interest me. Luckily, I have an understanding wife."
Insult
Alan added the way the incident was "pushed under the carpet" was an insult to everyone who died and all those loved ones who were affected.
"I just want someone to accept that what happened was a dreadful event that could have been avoided. I want the memory of everyone who died to be remembered and honoured and hopefully for all the families affected to get some closure," Alan said.
The jury also heard a pen portrait of Kathleen Muldoon, presented by her brother, Hugh, who described his sister as a very mature young girl, who was good-natured, thoughtful and helpful at all times to her family.
He said Kathleen got on well with all her school friends and went on social nights out, and loved football and music.
"My mother went to the local village and heard about a terrible fire that happened in Dublin, not realising at the time that her own daughter was in the fire. We had no house phone at the time. Kathleen's remains were confirmed by her uncle a few days later," Hugh said.
"Life very much changed for everyone in our house that day. Going to a disco or a social event was difficult. Going anywhere indoors was a nerve-wracking experience for our parents who would be waiting for you to come home in anticipation."
Hugh said Kathleen is remembered every day by their family, particularly on her birthday and her anniversary and at Christmas and other family events.
"Kathleen would have pursued her career in nursing, got married and had her own family. Looking after and caring for people is something she loved. Kathleen was a go-to person in our family growing up and very helpful to her mother and father.
"We, as a family, want the truth to come out as to what happened and why this has taken so long. Making television programmes about it and newspaper stories is no help to the families."
He added: "We're asking that the truth comes out, and it's a long time to wait. Let the deceased rest and the families rest."