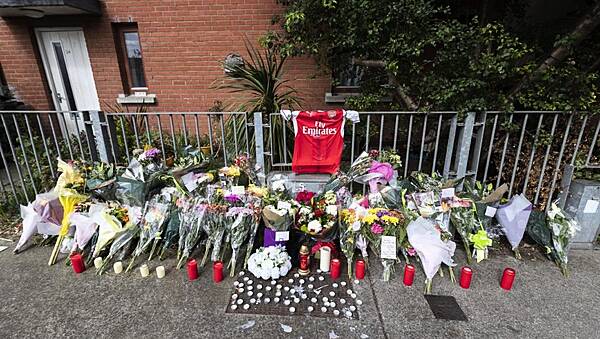 Alison O'Riordan
An eyewitness has told the Central Criminal Court he saw a murder accused raise his arm, swing back and "strike" a knife into his 25-year-old friend's neck.
The defendant's barrister, Brendan Grehan SC, suggested the witness, Samson Fayemi, and the deceased had not gone to the accused's house that day with peace on their minds, adding Mr Fayemi had wanted "some muscle" with him.
However, Mr Fayemi replied: "There was no intention of going there with assault on our mind."
John Titiloye (28), with an address at Mac Uilliam Crescent, Fortunestown, Tallaght, Dublin 24, has pleaded not guilty to the murder of Ademola 'Dizzy' Giwa (25) in the Mac Uilliam Road area of Tallaght on August 10th, 2021. Mr Giwa was from Mac Uilliam Parade in the same area.
Giving evidence on Wednesday, Mr Fayemi (26) told John Byrne SC, prosecuting, that he was friends with Mr Titiloye for "a very long period of time, as far back as 2008", having first met through football.
Mr Fayemi said tensions developed within their friendship in August 2021 over "a sum of money".
He explained he owed Mr Titiloye €100 and claimed he later began receiving threatening texts from the accused. He added he was not in a position to pay back the money.
Mr Fayemi told the jury that he rode his scooter to his house at the Marlfield estate in Tallaght on August 9th and would normally carry it up the steps. "Before I got the chance to go up the stairs I spoke with a friend outside the chipper and I noticed something struck me below the hip, I saw someone with their hood up and was shocked to see it was John Titiloye," he continued.
Mr Fayemi said the accused, who was with two others at the time, had "a mallet" hammer in his hand. The witness said avoid he avoided a second strike, a tussle ensued and his scooter was taken by Mr Titiloye and another man and put into the back seat of a black Mondeo car.
"John said he was taking it because I didn't give him his money. I tried to resolve it by giving him the money that same day, but he refused," the witness said.
Threat
Mr Fayemi said his house keys were on a bunch of keys in the scooter's ignition when it was taken. The witness said he tried to reach inside the back window of the car to take the keys out of the ignition, but a hammer was swung at him.
He said Mr Titiloye told him "watch what you're doing or my mate will stab you" as his hand was inside the back window of the car.
Mr Fayemi said he made contact with his "very helpful" friend, Mr Giwa, "to resolve the issue", as they and the accused had been very good friends at a time. The witness said Mr Giwa told him not to worry, deciding they would go to the accused's house the next day.
He said Mr Giwa drove him to Mac Uilliam Avenue at 5.30pm on August 10th and they parked around the corner from Mr Titiloye's house.
"Our intention was to go over peacefully, try and resolve the issue and pay the €100 bill, retrieve my scooter and house keys, without causing any harm whatsoever," Mr Fayemi said.
Meeting
The witness said Mr Titiloye refused to answer his calls prior to them calling to his house, but the accused had answered a call from Mr Giwa. "Ademola asked him if he was at home and said he just wanted to talk and John said ok, no problem," the witness told the court.
Mr Titiloye had his dog with him when he stepped outside his house to meet the two men. Mr Fayemi said they asked him 'what was the story with the scooter' and Mr Titiloye told them he had sold it, and it was gone. "I said it can't be sold," the witness said.
Mr Fayemi said the accused asked them to walk around the corner to Mac Uilliam Road so as not to start "any trouble outside his gaff".
The witness said he again asked Mr Titiloye where his scooter was and he was told by the accused that it was sold and "it's gone", which he wasn't happy about. "I said I'd give him the money and get my scooter back but he said it was sold," continued the witness.
The accused's father Anthony joined them and remained in their presence. Mr Fayemi said the atmosphere had changed slightly, that things were getting a bit agitated and an argument "was playing out " between the accused and Mr Giwa.
Mr Fayemi said attempts were made by Anthony Titiloye "to grab" Mr Giwa by the clothes, that Mr Giwa tried to push him away and that punches were thrown on both sides.
'Tussle'
The witness said as Mr Giwa and Anthony were "in a tussle" the accused saw what happened, screamed and came towards them with a blade in his hand.
Mr Fayemi said he saw the accused take a pocket knife or a flick-out knife out of the back pocket of his shorts.
Mr Fayemi said he saw the accused run up, raise his arm, swing back and "strike" the blade in a downward direction into Mr Giwa's neck. The witness said the accused swung the blade at him when he tried to intervene but he "dodged it".
The witness suggested to the jury that the accused could have also accidentally struck his father in the eye with the blade but was asked by counsel not to speculate about what may or may not have happened. In his opening address, Mr Byrne said the accused's father Anthony sustained "a cut type or stab type injury to the left eye" during the altercation and subsequently required treatment in hospital.
Mr Fayemi said Mr Giwa was bleeding very badly from his neck and had collapsed. He said the accused's father told his son in Yoruba [a language spoken in West Africa] to "let's go, run, run".
In cross-examination, Brendan Grehan SC, defending Mr Titiloye, asked the witness when did he decide that he was going to take the opportunity when he got into the witness box to blame his client for the injury to his father's eye. "It's been something within myself for a very long time," he replied.
"It didn't occur to you to tell gardai then or since, you were saving it for when you got into the witness box," asked Mr Grehan. "Not in that sense, no. I assumed it would have been known," replied Mr Fayemi.
Mr Fayemi said rumours had been going around that Mr Giwa had stabbed the accused's father in the eye. He agreed that he had decided to say it "to protect Ademola's memory". The witness said the accused was the only one with a blade at the time so "it wouldn't make sense to say anyone else did it".
'Bit of muscle'
The witness agreed that Mr Giwa had got involved in the dispute at his request but denied it was "as a bit of muscle". He also agreed that Mr Giwa was a "big lad, a fella that worked out in the gym".
"Not a fella you would mess with, would that be fair?" asked Mr Grehan. "If you want to put it that way," replied Mr Fayemi.
Asked why they hadn't parked outside the accused's house, Mr Fayemi said they "chose" not to park outside Mr Titiloye's house and instead parked around the corner.
Mr Grehan put it to the witness that they had called Mr Titiloye on the way to his house "to smoke the pipe of peace". "To resolve the matter," Mr Fayemi replied.
The witness agreed that he had tried to imply to the jury that the accused had got him drugs and that Mr Fayemi owed him €100 for it. He also agreed that he had told gardaí that the accused had lent him €100, which he said was a lie at the time.
"Have you come here to blacken John Titiloye in any way in which you can?" asked Mr Grehan. Mr Fayemi denied this suggestion.
Mr Fayemi said he had tried to give the accused money on August 9th but that Mr Titiloye wouldn't take it off him.
Mr Grehan put it to Mr Fayemi that Mr Giwa had "thrown his weight around" with his client and that the witness had threatened "to shoot" at the accused's house. "No one said such a thing," he replied. Asked why Mr Titiloye had made enquiries about getting bulletproof glass on August 10th, Mr Fayemi said that was between the accused and his family.
In re-examination, Mr Fayemi told Mr Byrne that he originally told gardai that he received 'a lend of money' from the accused, as he was a bit afraid at the time. He said the €100 was for cannabis.
Mr Grehan suggested to the witness that this was also a lie, which Mr Fayemi denied.
Opening the murder case to the jury on Monday, prosecution barrister Mr Byrne said that Mr Giwa was fatally stabbed in the neck in Tallaght in a row over a small debt and a stolen scooter. The barrister said it was the State's case that in the course of an argument Mr Titiloye produced a knife and stabbed Mr Giwa in the neck.
The 12 jurors were also told by the State in its opening address that it was the accused's position that he was in possession of a knife for self defence and having initially walked away from the altercation he returned to protect his father, who sustained a stab type injury to the eye.
The trial continues tomorrow before Mr Justice Paul McDermott and a jury of six men and six women.