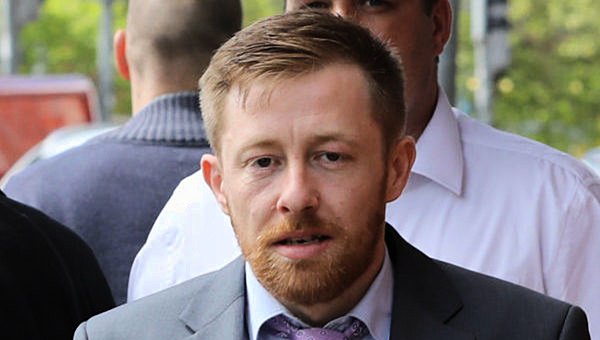 Paul Neilan
The man accused of murdering an early morning gym-goer and the attempted murder of well-known coach Pete Taylor at Bray Boxing Club may be granted bail "on the most stringent conditions", after the Court of Appeal found he has spent a "highly unusual amount of time" in custody without a date for his second trial.
Gerard Cervi has applied for bail on the grounds that he has been in custody for almost five years with no new trial date in sight.
The State is opposing bail on grounds that Mr Cervi is a flight risk, with the court hearing evidence that he left the jurisdiction for Spain after the shooting.
Mr Cervi is accused of the murder of Bobby Messett (50) and of the attempted murder of Mr Taylor, who was also shot when a gunman entered Bray Boxing Club in Bray Harbour, Co Wicklow on June 5th, 2018. Mr Cervi (36), who is originally from the East Wall area in Dublin 3, is further accused of the attempted murder of Ian Britton on the same date and location.
A 2021 trial heard that a gunman entered Bray Boxing Club at about 6.50am and opened fire. He shot Mr Messett in the head, killing him instantly. Mr Britton was shot in the leg while Mr Taylor ran towards the gunman but was shot in the shoulder and fell to the ground.
It was the State's case against Mr Cervi that he was the "lone gunman" who fired nine shots from a semi-automatic pistol "in quick succession" in "varying directions" before making his escape.
Trial collapsed
His trial at the Central Criminal Court, which had already been delayed due to Covid restrictions, collapsed after 10 weeks in September 2021 when Mr Justice Michael White told nine remaining jurors that one of their number had fallen ill and that it was "impossible to continue" as they had "gone below ten jurors".
The trial, which opened on June 29th, 2021, was originally due to finish in August that year but two jurors asked to be discharged when the finish date was extended into September. On August 24th, 2021, the remaining ten jurors further agreed to sit on until October 22nd, 2021, but the trial collapsed on September 6th, 2021. It had previously been given a date to commence in June 2020, but Covid restrictions prevented its commencement by a year.
His second trial is currently dealing with lengthy pre-trial legal issues.
At Thursday's hearing at the three-judge court, Michael O'Higgins SC, for Mr Cervi, addressed the judges' questions of Mr Cervi's movements after he took four return flights to Spain after the shooting.
Mr O'Higgins said that the pattern of travel for his client showed that for every departing flight Mr Cervi took he boarded a returning flight to Ireland.
Mr O'Higgins said his client had provided a travel history regarding the flights and had gone through all transactions and dates of the budget flights "where possible", as Mr Cervi "did not have a credit card of any sort".
On some occasions Mr Cervi paid cash for his flight, with his father's credit card used in at least one booking, said counsel.
Mr O'Higgins said his client's explanation of what he was doing in Spain was "somewhat sparse" but that Mr Cervi did admit engaging in unlawful activity in using cocaine while in Spain.
Counsel said his client did not want to nominate who he was with because "they are likely to get adversely involved in all of this and he doesn't want to do that".
"Every time suspicion is raised it must be abated when he returns," said Mr O'Higgins of the four return flights to Spain.
Mr O'Higgins said Mr Cervi had been previously refused bail but that with the passage of time involved of four years and eight months spent in custody the "dynamic" situation meant the "the pendulum has swung" back in his client's favour.
Spanish trip
Steven Nixon BL, for the State, said Mr Cervi had not dealt with who he was with or where he was staying in Spain and that the burden was on him to do so as it was his bail application.
Mr Justice George Birmingham said that some information had been provided in that Mr Cervi said he was involved in a ranch in Spain that trained showjumpers.
Mr Nixon said that no name, address or contact details had been provided regarding the ranch and that Mr Cervi "chose" not to provide them.
Mr Nixon said that when Cervi was arrested in connection with the murder in September 2018 he was in possession of a one-way ticket to Spain.
The barrister said there were concerns about the nomination of family members acting as a surety should Cervi be granted bail, as the accused had "a history of financially abusing his family".
Mr Nixon said there was "significant" concern about Mr Cervi being a flight-risk, "which I say he is".
Mr Justice Birmingham said Mr Cervi had spent a "very significant amount of time in custody" in what was a "very difficult case".
Mr Justice Birmingham said he did not see the case as a "straightforward" one.
The judge said the Supreme Court has a reserve judgement on admissibility of evidence which may affect the case further and that Mr Cervi has already spent a considerable time in custody with no imminent trial date.
Mr Justice Birmingham invited "all parties" in the case to consider a raft of "the most stringent" bail conditions for discussion, adding that it was an "highly unusual" amount of time to spend in custody without a verdict.
Mr Justice Birmingham said that if there was a clear timeline regarding the trial, bail would have been refused, but because there is not the bail consideration had been "pushed over the line".
"A combination of a substantial period in custody and an uncertain period between now and trial date has persuaded us to contemplate the bail but it will have to be on very strict conditions acknowledged by the applicant.
Ms Justice Isobel Kennedy read a list of proposed conditions for both sides to consider which included that he reside at a named address, observe an exercise period when he can leave the house alone, sign on twice daily, notify gardaí of any meetings with legal teams and for when he was travelling more than two kilometres from the address, allow the gardaí to electronically track his mobile phone which should be on him at all times and charged and be accompanied by his independent surety when leaving the house.
He is also to surrender his driving licence and is not allowed to either drive or travel in a motor propelled vehicle.
He is also to surrender all travel documents and is not to apply for a new passport and install a landline at the address on which he is to answer all calls from gardaí.
Mr Justice Birmingham asked both parties to return in the morning to see if the suggestions were "broadly appropriate" or if there had been an "insurmountable" obstacle to the proposals.