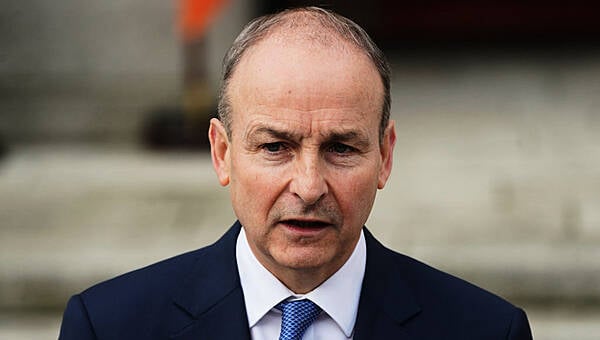 By Cillian Sherlock, PA
Tánaiste Micheal Martin has condemned a "stomach-churning" attack on a teenager which was shared online as the opposition said social media companies are "not doing enough" to remove violent bullying content.
Speaking during Leaders' Questions, Mr Martin said: "I think the country is sickened and very disturbed by this shocking attack on this young boy.
"The random violent nature of it, the videoing of it and the posting of the video online."
He said there had been increased violence against the LGBT+ community in Ireland.
Mr Martin said there had to be a multifaceted, multidisciplinary response across society.
He said an action plan on bullying had been launched in December and gardai have done work on youth diversion programmes.
He was responding to a question from Sinn Féin TD Pearse Doherty, who said the "sickening attack" is a reminder there is more work to be done.
Mr Doherty said he was "utterly disgusted and sickened to the core" to see the "unprovoked attack on a young child 14 years of age" which was shared on Twitter.
"There's no room in our society for this type of behaviour, for this type of violence, for this type of bullying."
He said there has been a rise in such violent incidents.
"There is a disturbing rise in young people orchestrating these attacks and filming them for public online consumption.
"It is clear that social media companies are not doing enough to root out this violent content from their platforms."
Mr Doherty asked when the office of the State's Online Safety Commissioner would be up and running.
Mr Martin said progress had been made on the commission, but he did not have an exact timeline.
"It will have very important work to do to prevent online violence, online bullying that has become a phenomenon as well."
Mr Martin said social media companies have responsibilities also.
Online commissioner
"But there has to be a faster and more rapid response to posting of such videos."
Mr Doherty said it was "not acceptable" that the content is still online.
"They shouldn't have to wait for our online commissioner to get up and running with the codes."
Mr Martin agreed and said the companies should remove the videos immediately.
"We've given that message to social media platforms on a consistent basis."
He said the rapidity at which they do that "has to be questioned".
Mr Martin said the delay can compound the damage done to the victim and have subsequent psychological impacts.
The attack was also condemned by Labour leader Ivana Bacik, who separately raised the issue of the "high likelihood" that global average temperatures will rise well above the 1.5C (2.7F) limit set under the Paris agreements.
She said: "Your government has been pouring taxpayers' money into paying for carbon credits at a time when we could be a leader in reducing reliance on gas and developing our great natural resource – developing our offshore wind capacity and we're lagging behind on that."
Mr Martin said the reality is that climate change is here now.
He said: "The offshore wind auction was a very significant milestone in terms of trying towards offshore wind energy in this country.
"I can see the five gigawatt target, now, in sight."