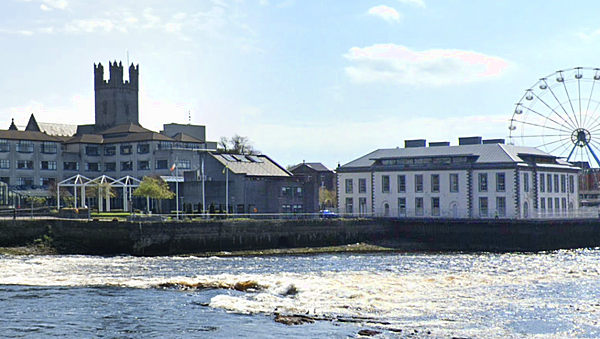 David Raleigh
The father of retired star Limerick footballer, Seamus O'Carroll, was "crushed" to death when an "unsafe" automatic steel gate, weighing one-metric tonne, shut on him as he attempted to enter his workplace.
A warning about the potential dangers of automatic gates was raised by Helen McCarthy, an inspector with the Health and Safety Association (HSA), who investigated the circumstances surrounding James "Jim" O'Carroll's death, as she gave evidence at his inquest, held at Limerick Coroner's Court, Wednesday.
Mr O'Carroll's son, Seamus, who recently retired from the Limerick senior football team, and who is a Garda based in Dublin City, excused himself from the court as evidence of his father's fatal injuries were read into the record by Limerick Coroner, John McNamara.
James O'Carroll, (52), was employed by Limerick City and County Council for over 20 years and worked as a road sweeper out of a machinery yard operated by the Council in Newcastle West.
Access to the yard was controlled by an automatic steel gate, measuring six metres wide by four metres high and weighing one metric tonne.
First person into yard
As Mr O'Connell was usually the first person into the yard every morning he would activate the automatic gate by ringing a number from his mobile phone. The gate could also be activated by a key fob.
He would then proceed to place a wooden plank in front of a single sensor located on the inside the gate to break the sensor, so the gate would remain open for his colleagues.
Ms McCarthy said she discovered this practice was "commonplace for many years" at the yard.
On April 14th, 2015, Mr O'Carroll arrived at the yard and attempted to enter the access gate on his bicycle, but, as he went to grab the wooden plank, the gate suddenly closed on him smashing his rib cage and shoulders, and he died at the scene.
The fatal accident was captured on CCTV cameras at the yard.
Con Mulcahy from Tournafullla, a mechanic employed at the yard, was the first person to come upon the scene, he freed Mr O'Carroll and valiantly performed CPR on him until an ambulance arrived.
Sergeant Mark Mannix, Newcastle West, said Seamus O'Carroll identified his father's body to him at the morgue at University Hospital Limerick later that day.
Sergeant Mannix said Gardai contacted the HSA and designated the gate was designated a "crime scene".
'Unsafe' gate
Ms McCarthy said she determined that the Council was operating an "unsafe" gate, as "the automatic gate had only one sensor inside the gate, and there was none on the outside wall which could have prevented this accident as it would have detected his (Mr O'Carroll's) presence".
She said the gate did not have a "Leading-Edge- Protection" system "to detect an obstruction in its path, and, again, this could have prevented the accident".
She said another reason for the fatal accident was that "the automatic gate had a closing force of approximately one metric tonne which did not diminish until the (closing) cycle was complete, therefore the gate kept closing on the deceased even when he was trapped".
"I also found Limerick City and County Council had not prepared a written risk assessment for the automatic gate."
Ms McCarthy said she conducted "many interviews" with Mr O'Carroll's co-workers who told her there were other previous "near misses" involving the gate causing damage to a truck, as well as an incident "involving another pedestrian employee".
"Unfortunately these occurrence were not acted upon…..they were not documented, and therefore missed", Ms McCarthy added.
She said she prepared a file for the Director of Public Prosecutions which subsequently brought criminal proceedings against the Council, that were heard before Limerick Circuit Criminal Court in November, 2021.
Council conviction
The Council was convicted of breaches of the Safety, Health and Welfare at Work Act and fined €75,000 after it pleaded guilty to three charges arising out of Mr O'Carroll's death, including failure to provide employees with safe access to the yard.
"From the CCTV footage you can see that as soon as the gate starts to open, he (Mr O'Carroll) attempts to enter and he bends down to pick up the wooden plank and he doesn't realise that the gate has suddenly started to reverse its action and close upon him," said Ms McCarthy.
"There was one sensor inside the gate, and what is worthy of note is that this is the minimal safety precaution with these gates, and unfortunately you will see this in many domestic and many commercial settings to this day."
"The Health and Safety Authority has issued, on foot of this accident and also on two previous occasions issued safety alerts advising the public to have two sensors and also to have Leading-Edge Protection on automatic gates, which when it detects an object or a person, it automatically bounces (the gate) back open to stops it closing in on top of the person."
Ms McCarthy said: "In this case the gate was set up so that if you activated the gate, it would open but if you activated it again, instead of continuing to open it would actually close".
Ms McCarthy said she could not determine the actual reason for the gate closing on Mr O'Carroll, however it was possible his own mobile phone had re-activated the gate"when he put the phone back into his pocket".
"It was unfortunately an accident waiting to happen," she said.
Ms McCarthy also outlined that, at the time, it was possible to activate the gate "from anywhere in the world, an inch away, a mile away, a million miles away".
One did not have to be standing near the gate to open and close it: "As long as there was a signal and the mobile number was registered to the place, you could be in Timbuktu and you could activate the gate."
"It begs the question: what is the safe operation of automatic gates, and the conclusion we have come to is that the safest mechanism – if you are using a mobile phone – is to have a full visual of the gate before you activate it."
She said many gates did not have this safe system "but the problem is you don't know if there is a child or a dog or whatever there, so this is certainly a precautionary tale".
"The safest mode of operation would be to have a hold-to-run fob system, which means that you are literally standing in front of the gate and you point your fob at the gate and you have to hold your finger on the fob in order to keep it open."
"But the problem is that in today's society, nobody wants to wait, we want to have instant access."
A post-mortem on Mr O'Carroll's remains found that his death was "due to cardiac respiratory failure secondary to blunt injury to the chest".
The HSA inspector, Ms McCarthy, said Mr O'Carroll died of "fatal crush injuries".
The coroner John McNamara, while commenting on the cause of death said Mr O'Carroll died from "a crush injury in a one metric tonne gate" after he suffered multiple double rib fractures leading to internal bleeding and death.
The jury recorded a unanimous verdict of "misadventure".