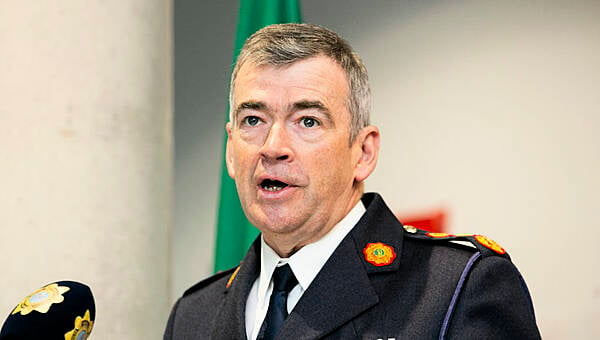 Kenneth Fox
Minister for Justice Simon Harris and Minister for Integration Roderic O'Gorman will meet with Garda Commissioner Drew Harris on Thursday following last week's attack on a refugee camp in Dublin.
As The Irish Times reports, last Friday, protests culminated in the belongings of asylum seekers being burned after they had vacated a makeshift camp in an alley off Sandwith St.
The ministers will meet the commissioner on Thursday evening to discuss the policing response to such incidents.
Further demonstrations have taken place outside the International Protection Office on Lower Mount St where other asylum seekers have formed a makeshift camp.
"It is an opportunity for the gardaí to update on their ongoing work to ensure public safety is maintained against the backdrop of anti-immigration protests and also to update on the events of the weekend," said a spokeswoman for the Department of Justice.
Minister Harris is also eager that the gardaí have an opportunity to provide those input into accommodation plans. Thursday's meeting is part of a regular and ongoing engagement with the gardaí."
It comes as Brian Killoran, chief executive of the Immigrant Council of Ireland said better communication and proper infrastructure are needed to avoid protests and 'tension points' over the housing of asylum seekers.
Mr Killoran told RTÉ radio's Morning Ireland, that communication should come from the top down alongside "growth from the grassroots". There should not be a reactive approach, he warned.
"You need to support communities, resource them, give them the power to do what they are doing now on a daily basis but do it in a more structured basis.
"We have to pull the trigger on it now so that we can build the capacity over the coming months to avoid these tension points and avoid protests.
"We have heard repeatedly from the Department of the Taoiseach that they are mulling over the options.
"Unfortunately, the tension points and the protests show a very different message which is not actually reflective of what the actual approach of Irish society is and the attitudes of the Irish public.
"That is the weight we have behind us, the momentum we have behind us, but we need to build ourselves out of this reactive approach".
Refugee accommodation could be in very rural, isolated places because of capacity issues, The current situation was not taking place under normal circumstances, he said.
"It is happening on the back of a series of migration crises including Ukraine"
Additional reporting Vivienne Clarke