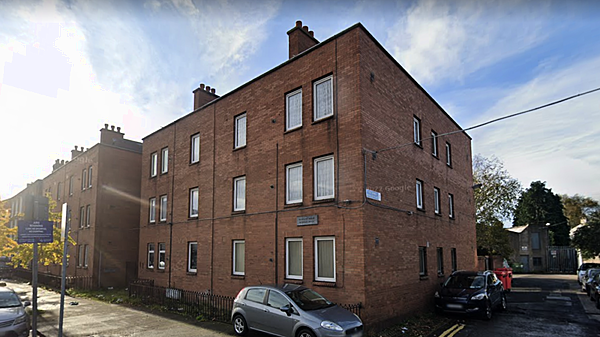 High Court reporters
The High Court has granted an injunction requiring a number of people who have taken over a building in Dublin to vacate the property.
The building is owned by the Cabhrú Housing Association, which was granted the order after the court heard a number of "unknown persons" broke into the premises at James McSweeney House, Berkeley Street, Dublin 7 on May 12th.
The building was vacated three years ago for the purpose of redevelopment by Cabhrú to provide 35 modern home units for older people. The redevelopment was delayed by the Covid pandemic and increased building costs, but construction is due to start next year.
The court heard there are serious concerns about safety in the building, given that gas and water had been cut off and the only electrical connection in place was for the alarm. The fire alarm also appeared to have been cut, Cabhrú said.
The case came before Mr Justice Rory Mulcahy on Thursday, when Padraig Drummond appeared on behalf of the "persons unknown" defendants. He said for the past week he had been advocating on behalf of 46 migrants who are in the building, adding he is chief executive of a group called Streetlink Homeless Support.
Mr Dummond said his group has been in direct contact with Minister for Integration Roderic O'Gorman, adding he was seeking a protection order to be put in place for the building, given migrant protests around the country and the fact there have been threats made by right-wing supporters online.
He said while he had nothing to do with "its acquisition", he was there to ensure welfare checks with the migrants living at the premises and to ensure there is power and running water.
He said he had tried to engage with Cabhrú's representative in relation to the fire alarm and as a result had asked those in occupation to place individuals on each balcony to "fire watch".
Material reception conditions
Mr Dummond quoted a recent High Court decision stating the State was obliged to provide material reception conditions for migrants. This should be what is done before requiring the migrants in this building to vacate, he argued.
His group were "seeking an amicable resolution for the 46 people there who are in 20 apartments and they are comfortable there".
He added: "When it was made public in the State media, right-wing agitators started agitating online, and we now have a situation where Roderic O'Gorman said it will be two weeks before he has accommodation when they are already accommodated in a State-owned building".
He said he had been in court three or four times when housing activists took over buildings and the State had sent in gardaí with a helicopter to evict them. He said if that happens in this case, it will not just be activists being evicted but asylum seekers.
Andrew Whelan BL, for Cabhrú, said his client was a private charity and not the State, who were providing homes for elderly people.
He said he had every sympathy for the plight of the homeless, but this was not the way to go about getting accommodation for them. Mr Whelan said there were serious safety concerns, adding that those in occupation had barricaded themselves into the property and there was clearly a trespass.
Mr Justice Mulcahy said he had every sympathy for what Mr Drummond was trying to do and even greater sympathy for the 46 migrants because they have nowhere else to go.
However, he found the case had been made out by the plaintiff, adding that where there is a trespass the appropriate remedy is an injunction.
He asked Mr Whelan if his client could provide a period of time within which the building could be vacated. Following a short break, Mr Whelan said such a decision would have to be taken by the Cabrú board in consultation with its insurers.
The judge said he would grant the order but put a stay on it for seven days, with the case to return before the court in a week.
When the judge asked Mr Drummond to "do whatever you can do", Counsel replied: "I have nothing to do with those who have taken control of the building, I have no control over it."