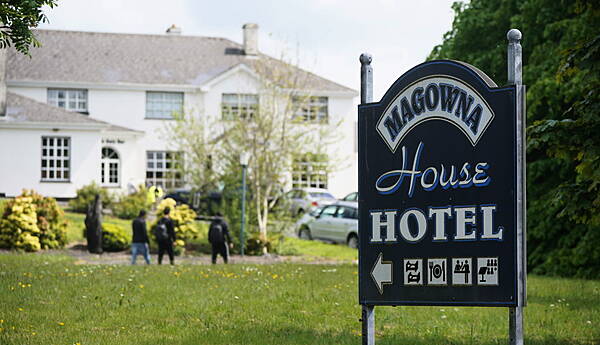 Gordon Deegan and Press Association
Minister for State for Integration Joe O'Brien has told Inch residents in Co Clare that no new additional International Protection (IP) applicants will be brought to Magowna House over the next four weeks.
In Ennis on Thursday evening, Mr O'Brien said he made the proposal to a residents' delegation as part of a bid to have the road barricades erected by locals to and from the former Magowna House Hotel removed.
The barricades have remained in place since 33 IP applicants arrived at Magowna House on Monday evening.
It involves parking cars and tractors across the road that leads to the hotel.
Protesters said that this was to stop a second bus that is expected to bring another 30 asylum seekers to the three holiday homes on the grounds of the hotel building.
Outside the Temple Gate Hotel in Ennis, Mr O'Brien said his request to the residents' delegation at a meeting "was that the barricades are taken down and in four weeks' time I will come back down and meet with them again and during that four weeks, no additional people will come to Magowna House".
Minister O'Brien said the residents' representatives are going to take his proposals "back to the wider community and see if they are accepted".
He said: "I hope that in four weeks' time the people of Inch will see that this is a better situation for the residents and a less fearful one for them as well."
He added: "It is linked to the barriers going down. The barriers need to come down and I will come back in four weeks time and we will discuss where people are then. We are not thinking beyond that at the moment. I have told them that I would like this to be a place where we can bring more people."
Mr O'Brien, who also met residents at the centre, added: "I have asked them to drop the barricade – that is the main reason I came down here today."
"I don't feel it is an acceptable thing to do – I understand why they have done it. I don't agree with it and that is why I am here to convince them to hopefully take that barricade down."
'Reasonable assuarances'
Earlier, Taoiseach Leo Varadkar said he hoped answering the questions of locals in Co Clare who are protesting, and giving them "reasonable assurances", will "allow the blockade to be lifted".
"I don't think anybody wants to say anything at the moment that might escalate the situation in Clare," the Taoiseach said.
"The blockade should end, it's not right for anyone to block a public road or to block access to someone's accommodation.
"But we also don't want to dismiss concerns local communities have and sometimes local communities have genuine concerns. And that's why we'll make sure there's information, there's communication, but also make it very clear that nobody has the right to veto other people coming into your community, no matter who they are."
He said further engagement is planned with locals in Co Clare.
"I don't want to get into the detail of that at the moment, but there will be further engagement with the local community there," he told reporters in Dublin.
"I think it is important that people's concerns are listened to, that they're provided information, that communication takes place, but also it's very important to be clear as a government, no community, nobody, has a veto on who should or should not live in your area and we can't allow that."
Meanwhile on Thursday evening, Minister for Justice Simon Harris and Mr O'Gorman met with Garda representatives including Garda Commissioner Drew Harris.
The ministers thanked An Garda Síochána for their work in policing a number of incidents in recent weeks, and reassured the Commissioner of the Government's ongoing support for their work.
The ministers and Commissioner agreed that finding accommodation for currently unaccommodated IP applicants is a priority for the safety of the individuals involved.
The ongoing liaison between An Garda Síochána and the Government on the provision of accommodation was discussed and the ministers and Commissioner recommitted themselves to further develop on this, including at a local level.
Mr Harris said that a number of investigations are under way into recent incidents and that these are live and active.