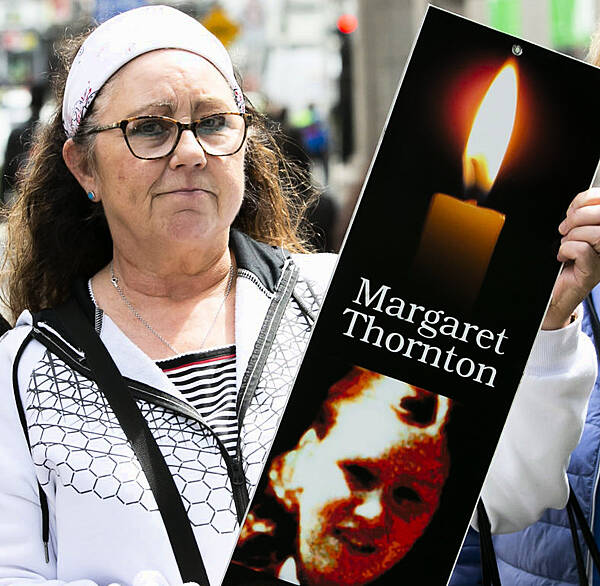 Ryan Dunne
A young woman killed in the Stardust fire "can never be a case number", her sister has told the inquest, speaking of how "part of all of us died" on the night the blaze swept through the nightclub in Artane over 40 years ago.
For the past four weeks, the families of the victims have been sharing their remembrances of the 48 people who died in the fire at the Stardust ballroom in the early hours of February 14th, 1981.
This concluded on Thursday in the Pillar Room of the Rotunda Hospital, with the pen portraits of Margaret Thornton, who was just 19 at the time, and her boyfriend Murtagh 'Murty' Kavanagh, who was 27.
The pen portrait of Ms Thornton was presented by her sister, Patricia Greene, who said Margaret was the baby of the family. She loved her music and concerts, going out with her family and friends and doting on her nieces and nephew.
On the night of the fire, she showered, put on her make-up and jewellery, and wore her best clothes as she was going to the Stardust with her boyfriend. She never came home.
Patricia said their brother John was playing dominoes when he saw on the TV that there had been a fire at the Stardust. He went straight to Jervis Street hospital, but as he could not find Margaret, he went to "the dead house", where he was given Margaret's necklace. Patricia said they then went to see their mother.
"Just walking in and looking at her and seeing how distraught she was is something I'll never forget, but it was nothing compared to a few days later, when it was confirmed that Margaret was in the Stardust," Patricia said.
"To say I miss her would be an understatement. I think a part of all of us died that day, but for our mother, I think the best part of her died with her youngest daughter, Margaret. I don't think she was ever happy again."
Patricia concluded: "Margaret can never be a case number. To us, she will always be a daughter, a granddaughter, a sister and an aunt, a cousin, and a friend. Margaret has always been loved and never will be forgotten."
I will always miss her, and I will never forget her
Further tribute was paid to Margaret by her friend, Valerie Boyd, who said she and Margaret were more like sisters than friends.
She said on the night of the fire, Margaret called to her to borrow a mauve suede bag belonging to Valerie that matched the outfit she was wearing.
"She looked a million dollars that night," Valerie said, adding this was the last time she ever saw Margaret.
"I still visit her grave every now and then for a little chat. I will always miss her, and I will never forget her. May she rest in peace."
The jury then heard the pen portrait of Murty Kavanagh, presented by his sister, Terry Jones. She described her brother as a caring, kind and generous person, who was good-natured and ready to help no matter what was needed.
He loved music, especially Bob Dylan and Neil Young, and he had a good sense of humour and an infectious laugh.
"On the day of the fire, my sister called to my father to check if Murty was home. He wasn't. They discussed the awfulness of the fire, never thinking what they would face in the next 24 hours," Terry said.
On Sunday morning, Terry said Margaret Thornton's mother arrived at their house to check if Margaret was there, but sadly she was not, nor was Murty.
"What happened next was sheer panic, worry and concern for the two of them," Terry said.
Unidentified
"There was no private family funeral or burial for Murty. We did not know which coffin was his when we attended the mass and burials for the five unidentified people which was held in Donnycarney Church.
"Murty was an unidentified victim and was not formally identified until twenty-five years after the fire," she explained.
Terry said the Stardust fire ravaged their family, and they were never the same again. Her father was left a broken man, she said, and her sister sold her home, moving with her family to live with and care for their father.
"We were all left devastated by the traumatic loss of Murty, the absence of a private funeral, him being unidentified, but it was my father that was truly broken.
"Every day he would say 'I would love to know where my son is buried'. He would say this every day until his own passing in 1985. He went to his grave knowing his son was unidentified, yet he believed that his son should never have been unidentified because Murty had a partial dental plate," Terry said.
At the conclusion of the pen portraits, coroner Dr Myra Cullinane said the inquest has witnessed the very dignified manner in which families have carried out this difficult task over the past four weeks.
"There was extreme sadness, of course, but occasional humour, which was equally moving given the loss that has been experienced," she said.
"The presentations brought home to all of us the impact of this disaster on so many lives and to see how it has affected each family in its own way. I sincerely thank the families for allowing us to participate in their most private and treasured memories," Dr Cullinane added.
Solicitor Darragh Mackin, who represents a number of the families, expressed their sincere appreciation and gratitude to the court. "They want to thank you for giving them a voice and more importantly, for giving the victims their identity back," he said.
The inquest will resume on Tuesday.