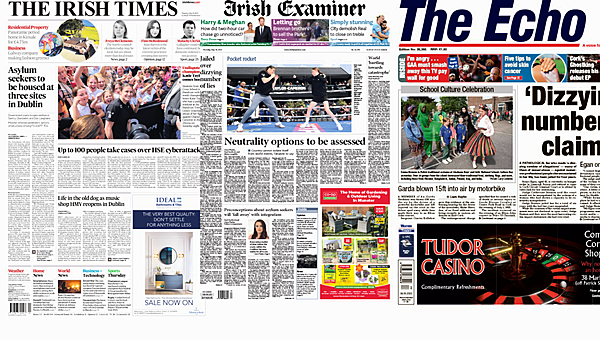 By PA Reporter
Thursday's front pages focus on a range of stories from asylum seekers being housed at three sites in Dublin to Ireland's neutrality to be assessed by the Government.
The Irish Times lead with a story about the Government's plans to open centres in Santry, Clondalkin and Dún Laoghaire in Dublin for people seeking international protection in the coming months.
The Irish Examiner report the "full spectrum" of options must be considered as part of a review of Ireland's military neutrality, Tánaiste Micheál Martin is due to tell the Dáil on Thursday.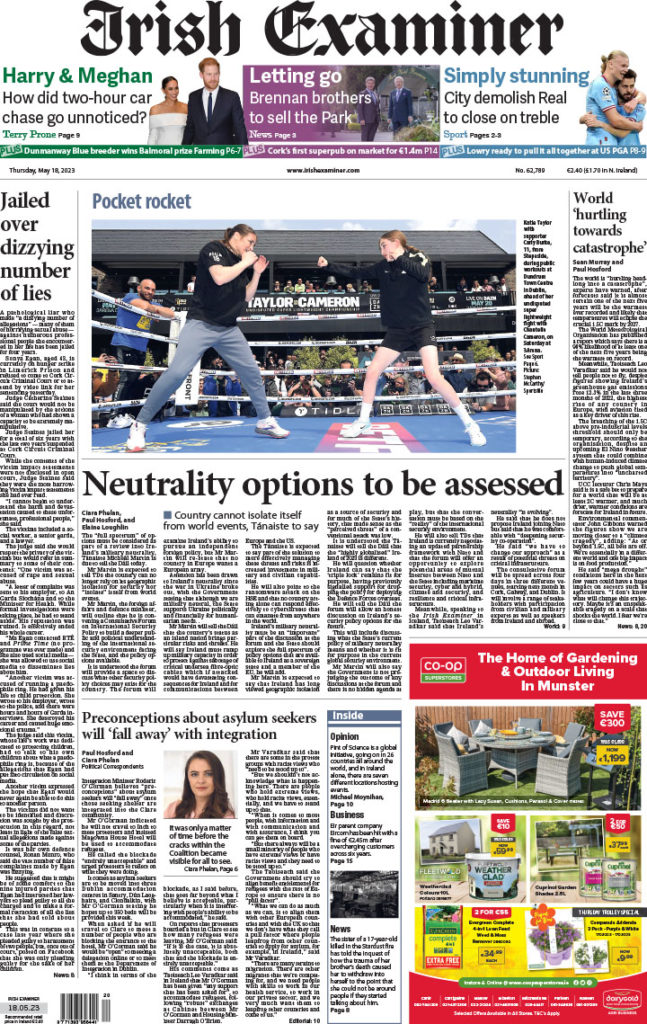 The Echo report that Sonya Egan, who was jailed for four years for telling career-ending lies against some victims and lies that caused deep personal trauma to others – effectively made elaborate false reports against anyone she perceived to be crossing her.
Here's the frontpage of Thursday's Irish Independent pic.twitter.com/bmHUNgB65U

— Independent.ie (@Independent_ie) May 18, 2023
Morning, readers. Here's a look at today's front page of the Belfast Telegraph.https://t.co/pq3PXBwVdM

Stay with us for all your breaking news today. pic.twitter.com/qXWyiEvdKr

— Belfast Telegraph (@BelTel) May 18, 2023
Meanwhile, in the UK Thursday's papers feature news from the US of an alleged car chase of the Duke and Duchess of Sussex by "numerous photographers" which lasted two hours and described as "near catastrophic".
The i and Metro lead with reports Harry and Meghan were subjected to a "relentless pursuit" after an awards ceremony in New York at 10pm on Tuesday.
Thursday's front page: New York 'car chase' sparks royal security row #TomorrowsPapersToday

Latest: https://t.co/sZl5EI1uTb pic.twitter.com/zMmZasXsOO

— i newspaper (@theipaper) May 17, 2023
Tomorrow's Paper Today 📰

HARRY AND MEGHAN IN PAPARAZZI 'CAR CHASE'

🔴 Pursuit 'near-catastrophic' says royals
🔴 It was 'challenging' says NY police#TomorrowsPapersToday pic.twitter.com/oiwVeW9hAB

— Metro (@MetroUK) May 17, 2023
Elsewhere, the Daily Express says the Prime Minister has raised hopes for a pre-election tax cut.
Tomorrow's front page: Sunak says 'I'm a ­low-tax Conservative' – PM raises hopes for pre-election tax cuts #TomorrowsPapersToday https://t.co/1OQIxNDDTL pic.twitter.com/49j7QCL1nu

— Daily Express (@Daily_Express) May 17, 2023
While The Guardian says Rishi Sunak has been accused of being "out of touch" over the cost-of-living crisis.
Guardian front page, Thursday 18 May 2023: PM accused of being 'out of touch' over cost of living pic.twitter.com/d6WUVV8KY7

— The Guardian (@guardian) May 17, 2023
The Daily Mail takes aim at the opposition leader, saying Keir Starmer wants to reopen Brexit talks.
Thursday's Daily MAIL: "Now The Starmer Mask Slips On Brexit" #TomorrowsPapersToday pic.twitter.com/v6WO7lQvhG

— Allie Hodgkins-Brown (@AllieHBNews) May 17, 2023
Water companies have apologised for pumping sewage into the nation's rivers and promised the greatest infrastructure modernisation since the Victorian era, according to The Times.
Thursday's TIMES: "Water firms' £10bn plan to prevent sewage spills" #TomorrowsPapersToday pic.twitter.com/3YGpV6iSyD

— Allie Hodgkins-Brown (@AllieHBNews) May 17, 2023
Obese patients cost the NHS twice as much as those of healthy weight, The Daily Telegraph reports, citing "landmark research".
The front page of tomorrow's Daily Telegraph:

'Massive cost of obesity to the NHS is revealed'#TomorrowsPapersToday

Sign up for the Front Page newsletterhttps://t.co/x8AV4OoUh6 pic.twitter.com/tQIT9Krtoh

— The Telegraph (@Telegraph) May 17, 2023
The Financial Times writes that German carmakers are lobbying the European Commission to delay post-Brexit rules that threaten the industry.
Just published: front page of the Financial Times, UK edition, Thursday 18 May https://t.co/feSUcXU5A6 pic.twitter.com/JRTcX32RNX

— Financial Times (@FinancialTimes) May 17, 2023
The Daily Mirror features an exclusive interview with the 12-year-old son of fusilier Lee Rigby ahead of the 10-year anniversary of his father's murder outside his barracks in Woolwich, South East London.
Thursday's front page: My hero dad…Lee Rigby #TomorrowsPapersToday https://t.co/bJg2wtNg1c pic.twitter.com/qhsBNCU5e2

— The Mirror (@DailyMirror) May 17, 2023
And the Daily Star says one in 10 people dip their sausage rolls in cups of tea.
Thursday's front page: Horror of the sausage roll dunkers#TomorrowsPapersToday https://t.co/THFX7B78Lu pic.twitter.com/FifdFQwEDq

— Daily Star (@dailystar) May 17, 2023