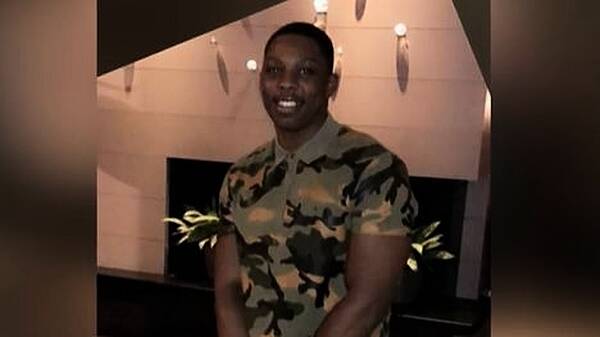 Alison O'Riordan
A man who denies murdering his 25-year-old friend after a row over a stolen scooter told the garda who arrested him "I killed him, I'm the man" and "I'm the man you want", the Central Criminal Court heard on Friday.
John Titiloye (28), with an address at Mac Uilliam Crescent, Fortunestown, Tallaght, Dublin 24 has pleaded not (NOT) guilty to murdering Ademola "Dizzy" Giwa (25) in the Mac Uilliam Road area in Tallaght on August 10th 2021. Mr Giwa was from Mac Uilliam Parade in the same west Dublin town.
Eyewitness Samson Fayemi (26) told the trial this week that he saw murder accused Mr Titiloye raise his arm, swing back and "strike" a knife into his 25-year-old friend's neck.
A pathologist has given evidence that Mr Giwa died after sustaining a stab wound to the neck which cut his jugular vein and damaged a lung, resulting in "devastating consequences".
Giving evidence on Friday, Garda Shane McTeague told John Byrne SC, prosecuting, that Mr Titiloye was located by gardaí on the Dublin Road in Dundalk on August 11th and that before the accused was arrested he told an officer: "It's me you're looking for, I'm the one from Tallaght".
After the accused was cautioned, Mr Titiloye replied "I killed him, I'm the man" and after arrest he said: "I'm the man you want".
Interview
In his first interview on August 11th 2021, Mr Titiloye told gardaí that he had an altercation with Mr Fayemi the day before the incident and that a man had come to his house at Mac Uilliam Crescent to fit bulletproof windows as he knew his life was in danger.
Martina Wade has given evidence that she witnessed a fight between two men armed with hammers on the evening of August 9th. She said "blows were being struck" by two of the "lads". "One of them looked like a claw hammer and the other like a mallet hammer," she said.
Before Mr Fayemi and Mr Giwa arrived at Mr Titiloye's house in Tallaght on August 10th, the accused told gardaí that he got a voice note saying they were outside his home. The accused said he had got his dog for protection.
Mr Titiloye said he had offered for the two men to come inside the house to 'smoke a joint' that he and his friend had rolled but that the two men just told him 'walk around the corner'.
Mr Titiloye told detectives that he could see that something was going to happen if he didn't go with them.
The accused said that when he was walking around the corner with the two men, Mr Giwa pointed his finger at him and into his chest saying "who do you think you are" before boxing him in the face.
Knife
Mr Titiloye told gardaí that he had a knife in his pocket for self-defence and waved it at the two men "to intimidate them but not attack them". He said his father Anthony Titiloye ran up to them and got in the middle of the altercation as he knew they were all friends.
He went on to tell gardaí that all he saw was Mr Giwa hitting his father several times in the face. "In his hand he had a knuckle duster which he had used to hit my dad. They said 'I'm dead" and they were going to get me," he said, adding that he ran away and didn't look back.
At one stage, Mr Titiloye told gardaí that he, Mr Fayemi and Mr Giwa were all friends and three or four months previously he had loaned Mr Fayemi money but that he hadn't paid him back.
The accused said the night before the incident he had received threatening voice notes so that was why he asked the man to come out and "upgrade" his house by installing the bullet proof windows. He said Mr Giwa had made the threats to him and that the deceased had owned weapons including a taser and batons.
He said Mr Giwa had punched his father in the face, so he had ran back to defend him. "I said to 'Dizzy' you hit my dad and I could see the knuckle duster in his hand, he said yes with a smirk on his face," he continued.
Mr Titiloye told gardaí that he didn't know what happened to Mr Giwa until he saw the news about his passing on social media. "I feel remorse for him cause he is a very good friend," he said.
Stab wound
In his second interview, the accused said he did not think he stabbed Mr Giwa and did not know how the deceased received a stab wound. The accused denied he had reached for the knife in 'a moment of madness'. Asked why he had run away from the scene after the altercation, Mr Titiloye said the two men were walking towards a field and he knew a gun was buried there. "They also saying I'm dead [sic]," he continued.
When gardaí put it to the accused that it looked like his father had tried to hold him back from the fight but that he had 'shook' his father off, Mr Titiloye denied this and said he wanted to help his father.
Asked again if he had stabbed Mr Giwa, the accused said he hadn't and that he had swung a punch at him. "Subconsciously I could have had the knife, but honestly I don't think I did. My intention was to show and scare, not to show and use. I swung a punch at him, that's all. I don't remember stabbing him, I just boxed him. I only hit him a dig that's why I ran away," he said.
Gardai told the accused in the fourth interview that the accused's knife had caused serious injury to Mr Giwa. Mr Titiloye said he understood this but that he did not remember holding the knife.
Detectives put it to the defendant that he was the only person at the scene who had a knife and the accused said he admitted having the knife. "I don't remember subconsciously stabbing, all I remember is throwing a punch," he explained.
The accused insisted to gardaí that he was telling the truth when they told him that "the game was up" and that he had lied to them.
Following the five interviews, Sergeant Gary Farrell was called to give evidence and told Mr Byrne that someone had used the search term 'knife' when using the accused's iPhone on August 4th, 2021. He said an online search had also been conducted the same day on the website Adverts.ie using the search term 'pocket knives'.
Under cross-examination, the sergeant agreed with Brendan Grehan SC alongside John Griffin BL, defending, that "lots of other things" were searched for on the iPhone including the terms "hunting and fishing shops" and "bullet proof glass and bullet proof doors".
Opening the murder case to the jury this week, prosecution barrister Mr Byrne said that Mr Giwa was fatally stabbed in the neck in Tallaght in a row over a small debt and a stolen scooter. The barrister said it was the State's case that in the course of an argument Mr Titiloye produced a knife and stabbed Mr Giwa in the neck.
The 12 jurors were also told by the State in its opening address that it was the accused's position that he was in possession of a knife for self defence and having initially walked away from the altercation he returned to protect his father, who sustained a stab type injury to the eye.
The trial continues on Monday before Mr Justice Paul McDermott and a jury of six men and six women, when closing speeches will commence.