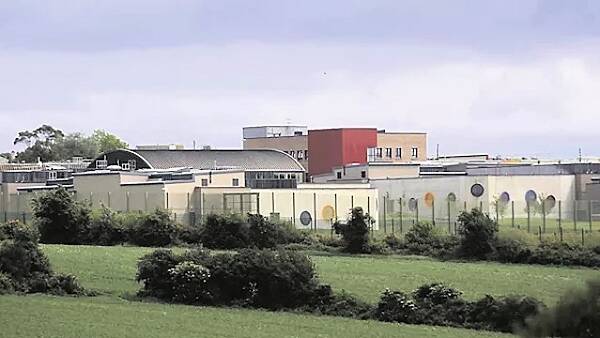 Olivia Kelleher
A boy who was 13 years old when he sexually assaulted and kicked a young woman is to be detained in Oberstown Children's Detention Campus for 18 months.
The young woman was left so badly injured in the face that when she tried to ring her parents the facial recognition app failed to recognise her.
Last month at Cork Circuit Criminal Court, the now 15-year-old boy was convicted of sexually assaulting the woman after he followed her as she walked home from a night out in Cork city centre.
The juvenile, who cannot be named for legal reasons, had pleaded guilty to assault causing harm to the woman in her 20s on the same night in January 2022.
The woman had told the trial that her appearance was frightening following the assault.
"I tried to ring my parents, but I have facial identification on my phone and the phone wouldn't open up because I looked so horrendous and when I saw my face on the camera phone later, I just freaked out."
The woman said she was walking home late on the night of the offence when she became suspicious that someone was following her. She thought she was imagining things, but then she was pushed to the ground.
"It's a bit of a blur, but I remember bits and pieces – the next thing I remember is being kicked in the face – my face was on the road – I had earrings on, and I could feel them sticking into me … I kind of shut down but my last thought, I remember thinking – I'm going to die."
The woman was rushed to hospital for treatment. When she woke up the next day she had pain in the back of her head, but she couldn't really recall being hit there.
However, then she remembered that the person who attacked her had grabbed her ponytail before attempting to drag her face down along the road.
"I remember being kicked in the face, and then it was lights out."
Female witness
Det Sgt Katrine Tansley told the sentencing hearing on Friday that the woman had left Cork city centre following a night out at 11.25pm on January 29th, 2022.
While on Evergreen Street she was approached from behind by the 13-year-old whom Det Sgt Tansley indicated "struck her on the back of the head knocking her on to the ground and hitting her in the head."
Dt Sgt Tansley said that a female witness observed the woman on the ground being kicked in the head. She noticed that the victim's long dress was pulled up to her waist and her pants were down.
"The woman spoke to the young male who acted as if he was helping. When another passer-by approached he [the youth] ran away down Travers Street. The woman had pronounced swelling on her jaw."
Det Sgt Tansley said that the woman was taken to Cork University Hospital where she was treated for serious facial/jaw injuries and concussion. She was also assessed at the Sexual Assault Unit at the South Infirmary Hospital.
She did not have a full recollection of the incident. However, she experienced flashbacks of being dragged down the road.
The victim made a victim impact statement at the sentencing hearing.
The college student said her life had been going well, and she could never have imagined how much it was going to change.
"I don't remember much of the attack, but I do remember the aftermath. I remember being in the hospital and really seeing my face close-up. I was in complete shock. I didn't look or feel like myself. It was maybe a few months later before the reality of what was done to me set in.
"I found sleeping difficult. I had sleeping tablets prescribed by my doctor because it got so bad. I would lie awake in bed, thinking about what had happened and replaying the short flashback I had over and over again in my head.
"I missed around eight weeks of my final year because of my head injury. When I went back, I was extremely overwhelmed and found it hard to concentrate."
The woman said she was determined not to let what had happened to her control her life. However, she finds it hard to walk places on her own.
Family members
"Even walking during the day if I hear or think I hear footsteps I find it hard to breathe and start panicking. It feels like I'm back in the moment I was being assaulted. I usually wait for the person to pass me in order to try to calm down.
"I would say I have a good relationship with my family, and they have helped me hugely over the last year. I have noticed the impact that this has had on them. No matter where I go my parents won't fall asleep until I'm home, and they feel they need to check in on me, day and night."
The woman said she finds it hard to hug or be close to male friends of family members since the incident and the idea of being in a romantic relationship in the future makes her feel extremely uncomfortable.
She also feels anxious when passing teenage or young boys.
The teenager claimed that he was trying to help the woman and that three other men had attacked her. He said it was his plan to go after them.
At the sentencing hearing on Friday, Siobhan Lankford, defence counsel, said she appreciated the gravity of the offence. She appealed for leniency in the case, saying her client had never been in trouble prior to the incident.
"He hasn't been in trouble since. He has good support."
Judge Catherine Staines said a "disturbing" aspect of the case involved the youth watching pornography from the age of 11.
"I think it is truly shocking that this is available to vulnerable, impressionable young people. Clearly these companies are making vast sums of money from selling pornographic material.
"More rigorous restrictions should be imposed on them to prevent this harmful material being available to young children."
Judge Staines said that it was a "vicious" incident and sympathised with the victim who had suffered "grotesque injuries."
She said the sexual assault, while serious, was at the lower end of the scale as it involved the youth pulling up the dress of the woman and pulling down her underwear during the attack.
She directed the youth be detained at Oberstown for a period of 18 months.
If you have been affected by any of the issues raised in this article, you can call the national 24-hour Rape Crisis Helpline at 1800-77 8888, access text service and webchat options at drcc.ie/services/helpline, or visit Rape Crisis Help.