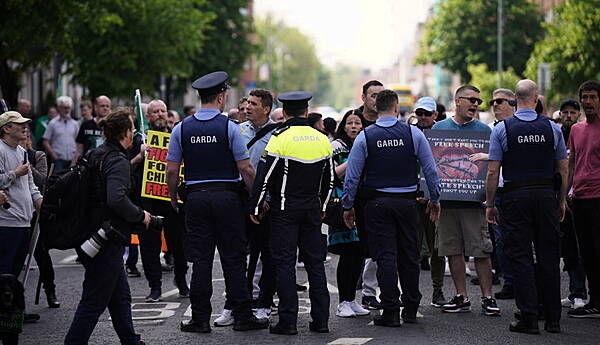 Vivienne Clarke
The representative group for Garda sergeants and inspectors has called for "proper training" for frontline gardaí and better resources for dealing with anti-immigration protests.
Antoinette Cunningham, the general secretary of the Association of Garda Sergeants and Inspectors (AGSI), told RTÉ's Morning Ireland that the organisation had grave concerns about comments by Garda Commissioner Drew Harris that the force had the personnel and resources to deal with protests.
"We have written to the Garda Commissioner to seek to meet with him as a matter of urgency to make sure he understands from the frontline membership what their concerns are," she said.
Ms Cunningham said frontline gardaí felt they had not received proper training about peaceful crowd management when dealing with protests.
"The thin blue line remains an area of concern for us all. Because if the public order units aren't there, it falls to the frontline to deal with the matter as they find it," she said.
When asked about the role of gardaí in the blockade in Inch, Co Clare, where protesters were demanding to see identification, Ms Cunningham said operational decisions in such circumstances were a garda management decision.
It was not legal for any citizen to stop another and ask for identification, she said. Frontline members had to await direction on how to respond to the situation and how it was managed.
"Quite often our own members come under heavy criticism from members of the public who say the guards are doing nothing. What is happening here is the gardaí are under direction from senior garda management as to the appropriate course of action to take at a particular incident at a particular time.
"So that's the point. It's okay for the Garda Commissioner to tell our politicians that there's operational integrity to deal with the protest, but the ordinary guard that are left dealing with it on the frontline is grossly undertrained, doesn't know what is their role other than to prevent a breach of the peace.
"And what has happened is we have had a whole new population in the last 18 months in Ireland that's probably not part of any policing strategy and is definitely not part of any police training that our members have undergone.
"I want to be crystal clear about this, the frontline membership that I represent feel grossly undertrained and inadequately directed in how to deal with these issues, because we have not received that operational guideline from senior Garda management. And that is incorrect and unfair.
"And when gardaí know that these issues are on the increase, they should be taking people in and training them in how to consistently and equally apply the law to these situations".