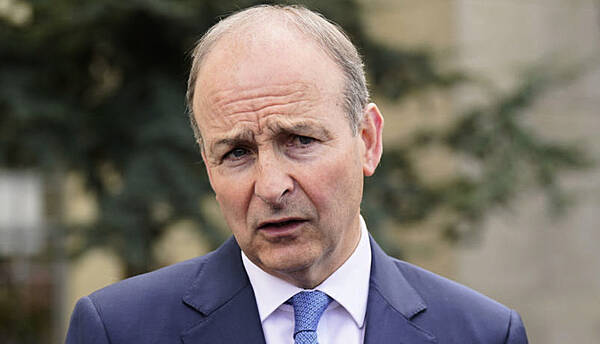 By Gráinne Ní Aodha, PA
Micheál Martin has said that "outrageous" false stories about refugees moving into communities are being spread that is spreading unease among communities.
The Tanaiste said he was not speaking about Clare specifically, where a protest is being held outside Magowna House hotel after more than 30 asylum seekers arrived by bus on Monday night.
Some locals have raised concerns about the quality of the accommodation and the lack of services in the area, and have blocked the road to stop more buses from arriving at the hotel.
They also raised concerns about a lack of prior consultation.
The government has said that concerns need to be listened to, but stressed that no one can veto the arrival of people into a community and insisted that the hotel will still be used as accommodation.
Mr Martin said he does not underestimate the pressures on people and on communities, but added "this is not peacetime", referencing the Russian invasion of Ukraine and other conflicts.
He acknowledged that the government needed to improve communications and consultation, and said there was "never anything wrong" with engagement, referring to minister of state Joe O'Brien's meeting with locals in Clare on Thursday.
"I think we're always ready to improve communications and consultation," Mr Martin told reporters on Friday.
"But there's another side to the story as well.
"There has been, as I say, close to 100,000 people now housed by the state and in this country – that also reflects the welcome that many have received and the degree to which many communities across the country have not been engaged in blockades and so on, rather the opposite.
"They've been working to help people to settle down, and acclimatise and integrate, and I've been in many schools over the last while and I must say the education community have been to the fore in helping young children of asylum seekers and indeed Ukrainian children to continue their learning, continue their education.
"And those environments are ones of warmth and of welcome. But of course, they don't get the headlines and rarely get the headlines," he said.
He said that Ireland needed to "rebut" and "refute" rumours about migrants that are without foundation.
"More generally, we are aware of false stories being spread about people who come into the country that have no foundation. And some of them are outrageous in terms of what's been asserted, and we just have to stand up against that.
"I met a person last week who was convinced that 150 people had arrived in the night before in a particular location, when that wasn't the case at all, no one had arrived the night before.
"But it was posted on Facebook that 150 had arrived in and saying all sorts of things are going to happen and 'your children are in danger' and so on like that.
"And that's kind of shocking stuff and that is a factor, I think, that's beginning to spread unease, and we have to really rebut that, refute that, and it's unacceptable."