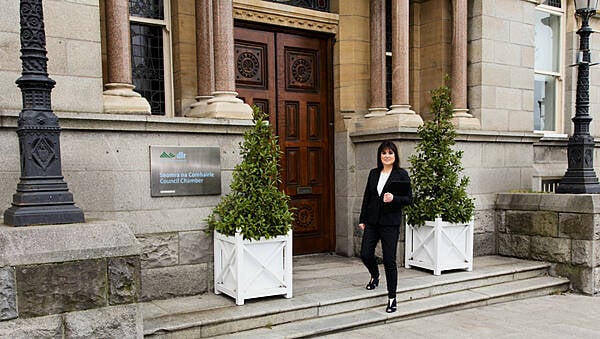 Michael Bolton
An independent councillor for Dun Laoighaire/Rathdown has called for reform in the justice system to help victims of sexual violence.
Cllr Deirdre Donnelly claims she was illegally sexually assaulted at a political event in 2019, as she was preparing for the local elections.
Ms Donnelly says she experienced the difficulty victims face in her quest for justice, as she waited over two years for a decision to be made by the DPP, which decided not to charge the accused.
In her interactions with politicians in her mission to highlight her experience and help victims, Ms Donnelly has been highly critical and called for change in how political parties address such issues.
"What the individual did to me was one thing, I ended up with psychological and physical injuries, but the treatment I received from his party in particular, has been absolutely disgraceful," said Ms Donnelly.
"The way I was treated by the justice system was appalling as well. That has done more damage to me to be honest than anything the individual did.
"From a justice point of view, unless the whole system sees change, people will not come forward. They are not going to want to come forward to make complaints. Unless the political system sees change in these issues, we will have a situation where it's great to see more women running for election, but there will be a retention issue, a lot of people won't stay.
Counselling records
In a recent meeting with the Minister for Justice Simon Harris, one of the issues Ms Donnelly called for change in is the use of a victims' counselling records in a trial.
While Ms Donnelly said there were some positives to take from her meeting, the use of councillor records is set to continue in trials.
In a statement from the Department of Justice it said: "The accused's right to a fair trial entails a right to disclosure of any material that may strengthen their case or weaken that of the prosecution.
"Counselling records might contain such material, and on that basis it would not be legally possible to exclude counselling records from release in all cases. The accused's right to a fair trial also places the onus on the prosecution to disclose all relevant information.
"The Health-led review will look at whether or not the correct balance is struck between these conflicting rights, and, as part of that, will consider if a judge should examine the counselling records in all cases to decide if there is relevant information of evidential value that should to be disclosed to the defence."
In Ms Donnelly's experience, the DPP took almost two years to come to their decision not to charge the accused. The length of time this took was labelled "unacceptable" by the councillor, who has called for the process to be accelerated to help victims move on and seek help.
"In my case, the total length of time it took for a decision was almost two years, I think that was unacceptable. A person cannot move on and get counselling if they don't know if there is going to be a trial.
"In a situation where the accused may know them or even work with them or know in a social setting, it can be extremely difficult.
"I never met the garda in charge of my case as it was in a different part of the country. I think it's important the investigator meets the victim."
Since the alleged incident in 2019, the Dun Laoighaire/Rathdown councillor has been vocal in her disappointment with the response of political representatives and their lack of willingness for change.
"Certainly from addressing the safety of councillors, and the code of conduct of councillors towards other people, the interest isn't there."