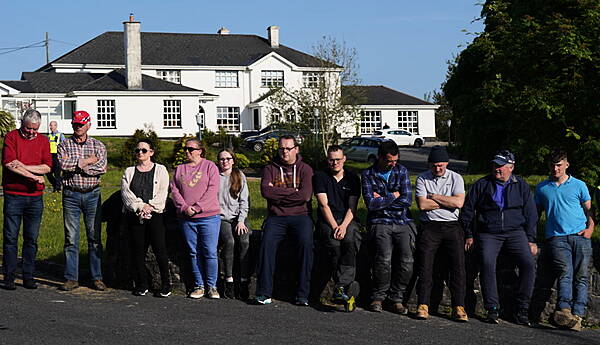 Protesters have lifted their blockade at a hotel being used to house asylum seekers in Co Clare.
Magowna House Hotel in Inch has been at the centre of a dispute this week.
Locals claimed they were not consulted about plans to house migrants in the hotel and had formed a blockade at the entrance.
It involved parking cars and tractors across the road that leads to the hotel.
I welcome the decision of the residents to remove the blockade at Magowna House. pic.twitter.com/h7OUg00b7v

— Joe O'Brien TD for Dublin Fingal (@joefingalgreen) May 21, 2023
Protesters said this was to stop a second bus that was expected to bring another 30 asylum seekers to three holiday homes on the grounds of the hotel building.
Following a meeting earlier this week with the Minister of State for Integration, Joe O'Brien, the residents have now agreed to remove the blockade and maintain a peaceful protest.
Mr O'Brien welcomed the decision.
"My meeting with the residents on Thursday, in Ennis, was an honest, open discussion and I am pleased that that engagement has helped bring some improvement to the situation," he said in a statement on Sunday.
"I look forward to working with the provider and my officials to develop a programme of education, training and other supports for the people residing in Magowna House.
"I look forward to returning to Magowna in four weeks as agreed."