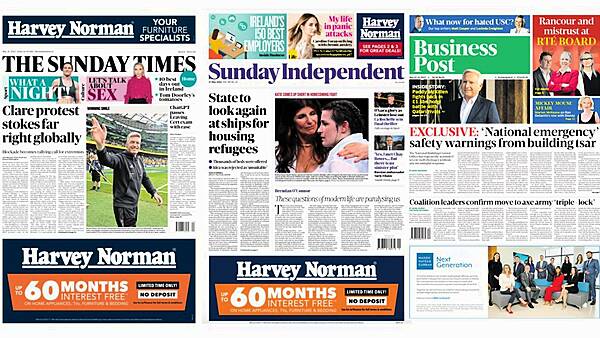 Katie Taylor's homecoming loss and the migration crisis feature on the front of Ireland's newspapers on Sunday.
The Sunday Independent reports that the Government rejected offers of thousands of beds to accommodate refugees last year in a move it is now being forced to revisit as the migration crisis worsens.
The paper also has a photo of a dejected Katie Taylor after she lost for the first time in her professional boxing career at her homecoming fight in Dublin.
The State's building regulator has claimed the country faces a "national emergency" of construction regulation, the Business Post reports.
The Ireland edition of The Sunday Times says the blockade of a direct provision centre in Co Clare has become a focal point for anti-immigration activists and far-right extremists around the world.
The Irish Sunday Mirror covers two big stories in television – Patrick Kielty becoming the new host of RTÉ's The Late Late Show and Phillip Schofield leaving ITV's This Morning.
The Irish Mail on Sunday reports that gardaí want extra powers to deal with right-wing protest over migration.
Suella Braverman's speeding "cover up" and migration feature in the British newspapers.
The Mail on Sunday says British home secretary Suella Braverman tried to "cover up" her speeding offence.
MAIL ON SUNDAY: Suella 'tried to cover up' speeding offence #TomorrowsPapersToday pic.twitter.com/gFxyVAMLql

— Neil Henderson (@hendopolis) May 20, 2023
The Sunday Mirror and the Daily Star ran with the ITV morning show host Phillip Schofield announcing his exit from the programme.
Sunday's front page:

They think it's all sofa! https://t.co/mKFDaUvntW#TomorrowsPapersToday pic.twitter.com/ktkiayfEqY

— The Mirror (@DailyMirror) May 20, 2023
Sunday's front page: Holly 1 Wally 0 #TomorrowsPapersToday https://t.co/na9mvCK6cx pic.twitter.com/rDo1E9PVpI

— Daily Star (@dailystar) May 20, 2023
Meanwhile, The Sunday Telegraph says the "migration tsar" has backed plans to reduce graduate visas.
The front page of tomorrow's Sunday Telegraph:

'Migration tsar backs student visa curbs'#TomorrowsPapersToday

Sign up for the Front Page newsletterhttps://t.co/x8AV4Oomry pic.twitter.com/u3BnwxCb2C

— The Telegraph (@Telegraph) May 20, 2023
The Daily Express highlights claims from a cabinet minister who said, due to Brexit, Britain will be a "roaring success".
Sunday Express front cover: Brexit 'will be roaring success'https://t.co/mchHoN8pbI#TomorrowsPapersToday pic.twitter.com/THOgBjp9g2

— Daily Express (@Daily_Express) May 20, 2023
And The Observer reveals a top Tory donor is being investigated for money laundering and fraud.
Tomorrow's front page pic.twitter.com/mv4TeCfagZ

— The Observer (@ObserverUK) May 20, 2023