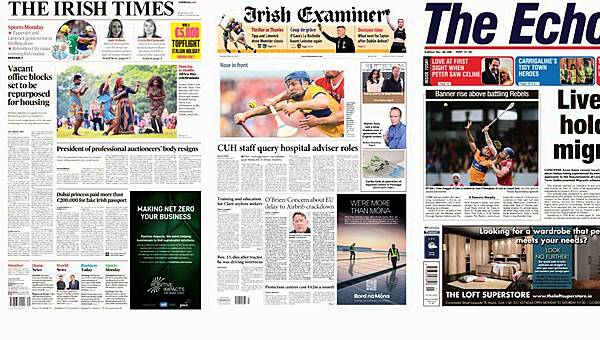 By PA Reporter
Monday's front pages focus on a range of stories from vacant office blocks being repurposed for housing to staff at Cork University Hospital querying why management consultants are earning €608,000.
The Irish Times reports empty office blocks would be converted into apartments under a Government plan to tackle the housing shortfall as political pressure over the crisis intensifies.
The Irish Examiner lead on a piece about frontline staff at Cork University Hospital questioning why PwC consultants have earned fees which could run to more than €1 million at a time when services are stretched to breaking point.
The Echo report that concerns are being raised about delays to a migrant scheme.
Good morning,

Here is the front page of today's Irish Independent pic.twitter.com/hC9BAX93ZT

— Independent.ie (@Independent_ie) May 22, 2023
The front page of today's Irish Sun. pic.twitter.com/ke1tuhT23r

— The Irish Sun (@IrishSunOnline) May 22, 2023
Morning, readers. Here's a look at today's front page of the Belfast Telegraph. https://t.co/HRpDNsHsjK

Stay with us for all your breaking news today. pic.twitter.com/yf5irrt01N

— Belfast Telegraph (@BelTel) May 22, 2023
Home Secretary Suella Braverman's speeding fine and a variety of other stories feature on the front pages in Britain on Monday.
The Daily Telegraph suggests Ms Braverman's speeding row may be a smear campaign over curbs on migrants.
The front page of tomorrow's Daily Telegraph:

'Braverman 'smear' fears over curbs on migrants'#TomorrowsPapersToday

Sign up for the Front Page newsletterhttps://t.co/x8AV4Oomry pic.twitter.com/BFTaXtOJ89

— The Telegraph (@Telegraph) May 21, 2023
The Mirror and The Guardian take a different stance, saying Labour is demanding a probe into Ms Braverman's speeding fine after her team denied she had a speeding ticket six weeks ago.
Monday's front page: Fast-track her out https://t.co/BwAslbzFF1 #TomorrowsPapersToday pic.twitter.com/5H7cuSF6dw

— The Mirror (@DailyMirror) May 21, 2023
Guardian front page, Monday 22 May 2023: Pressure on PM to launch inquiry into Braverman's speeding row pic.twitter.com/rzqYC1vQIH

— The Guardian (@guardian) May 21, 2023
The Daily Express says a people smuggler claims Europe is sending tens of thousands of migrants to Britain.
Monday's front page: Europe 'turns blind eye' to let migrants reach UKhttps://t.co/j6YEXs0NI1#TomorrowsPapersToday pic.twitter.com/nQnrjJtN5r

— Daily Express (@Daily_Express) May 21, 2023
The Times says patients will be encouraged to use the NHS app to book private healthcare in an effort to cut wait times.
THE TIMES: NHS app to let patients book private healthcare #TomorrowsPapersToday pic.twitter.com/vTLgsqKFzg

— Neil Henderson (@hendopolis) May 21, 2023
The Daily Mail reveals drug driving has overtaken drink driving with 80 people a day caught under the influence of drugs while driving.
Monday's @DailyMailUK #MailFrontPages pic.twitter.com/NUTv7vzNTQ

— Daily Mail U.K. (@DailyMailUK) May 21, 2023
The Financial Times says China have banned a US chipmaker after the G7 summit.
Just published: front page of the Financial Times UK edition Monday May 22 https://t.co/dUYX0M3m0x pic.twitter.com/X9TokegYVw

— Financial Times (@FinancialTimes) May 21, 2023
The Sun reports Phillip Schofield is devastated after his axing from ITV's This Morning show.
On tomorrow's front page: Devastated Phillip Schofield says he is "completely broken" by his axing from This Morninghttps://t.co/EvDjACY5Qf pic.twitter.com/5PEh0d7CPg

— The Sun (@TheSun) May 21, 2023
And the Daily Star looks to the clear skies, saying Britain will be hotter than Morocco this week with a 24C day forecast.
Monday's front page: It's Bake Britain #TomorrowsPapersToday https://t.co/HyP1U09yGk pic.twitter.com/b5CIcwUkjN

— Daily Star (@dailystar) May 21, 2023