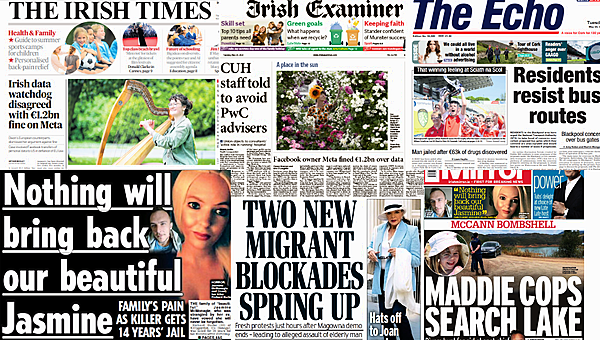 The fine of €1.2 billion imposed on Meta, concern over the far right growing in Ireland and further blockades at asylum seeker centres are the main headlines across today's front pages.
The Irish Times leads with the claims the Irish data watchdog disagreed with the €1.2 billion fine on Meta, while the Garda commissioner Drew Harris claims the far right aren't growing in Ireland.

The Irish Examiner leads with Cork University Hospital staff told not to engage with meetings with PwC advisers as their union objects to their active role in the hospital.
The Echo leads with concerns for residents in Blackrock over a new bus routs as they plead with the National Transport Agency to listen to their concerns.
The Irish Daily Mirror leads with new searches in Portugal for Madeline McCann, who has been missing since 2007.
The Irish Daily Mail reports that new blockades have been set up across centres for asylum seekers across the country, after an elderly man was allegedly assaulted at Corofin in Clare yesterday.
The Irish Daily Star leads with comments from the family of Jasmine McMonagle, after her killer was sentenced to 14 years in prison.
British papers
Fresh developments in the search for Madeleine McCann dominates the front pages of several newspapers on Tuesday.
The Daily Express says police in Portugal are returning to a remote reservoir described as "my little paradise" by suspect Christian Brueckner.
Tomorrow's front page: Europe turns blind eye to let migrants reach UK, smuggler reveals #tomorrowspaperstodayhttps://t.co/uBLMHDSEPH pic.twitter.com/77Vmedway3

— Daily Express (@Daily_Express) May 22, 2023
The same story is on the front of The Sun, which describes the "Riddle of the Lake", and the Daily Mirror which calls the development a "bombshell" in the search for Madeleine who went missing in 2007, aged three.
On tomorrow's front page: Divers trawl reservoir again in major new search for Madeleine McCann's body pic.twitter.com/NxA4WuRdPU

— The Sun (@TheSun) May 22, 2023
Tuesday's front page: Maddie cops search lake#TomorrowsPapersTodayhttps://t.co/GkjhfrN544 pic.twitter.com/Tre810Wudm

— The Mirror (@DailyMirror) May 22, 2023
The Daily Star follows suit with the headline "Maddie cops dig at reservoir" while the Metro simply says "New hunt for Maddie".
Maddie cops dig at reservoir #TomorrowsPapersToday https://t.co/5XItBML4JJ pic.twitter.com/t3ogbbZLMi

— Daily Star (@dailystar) May 22, 2023
Tomorrow's Paper Today 📰

NEW HUNT FOR MADDIE

🔴 Search at reservoir linked to suspect#tomorrowspaperstoday pic.twitter.com/HOuKRQd5Pc

— Metro (@MetroUK) May 22, 2023
Suella Braverman features on the front of the i which says she has been left "waiting on her future" as British prime minister Rishi Sunak delays his decision on whether to launch an ethics inquiry into her actions after being caught speeding.
I: Number 10 leaves Braverman waiting on her future #TomorrowsPapersToday pic.twitter.com/iYn0PCrco6

— Neil Henderson (@hendopolis) May 22, 2023
The Guardian says the most senior civil servant at the Home Office was "aware" of the allegations against the Home Secretary, but leads on thousands of reports by hospital staff alleging physical, verbal and sexual assault by patients.
Guardian front page, Tuesday 23 May 2023: Thousands of hospital staff report claims of sexual abuse by patients pic.twitter.com/zJW2rXkiP7

— The Guardian (@guardian) May 22, 2023
London is being "left behind" by rival cities as a financial centre, according to The Daily Telegraph.
The front page of tomorrow's Daily Telegraph:

London 'left behind' by financial rival cities#TomorrowsPapersToday

Sign up for the Front Page newsletterhttps://t.co/x8AV4OoUh6 pic.twitter.com/eD3F9MLGTg

— The Telegraph (@Telegraph) May 22, 2023
The Daily Mail focuses on accusations that the head of the equalities watchdog was under pressure due to her stance on trans issues.
MAIL: Revealed: Plot to drive out equality chief who's standing up for women #TomorrowsPapersToday pic.twitter.com/jZVHyVQmrA

— Neil Henderson (@hendopolis) May 22, 2023
New homes are the focus of The Times, which says Natural England's rules have prevented 160,000 properties from being built.
TIMES: Green quango blamed for blocking new homes #TomorrowsPapersToday pic.twitter.com/YidpKY8RgE

— Neil Henderson (@hendopolis) May 22, 2023
And the Financial Times leads on Facebook's owner Meta being handed a record 1.2 billion euro (£1.04 billion) fine over transatlantic data transfers.
FT: ⁦Meta handed record €1.2bn European fine #TomorrowsPapersToday pic.twitter.com/tu9BVJKzq2

— Neil Henderson (@hendopolis) May 22, 2023