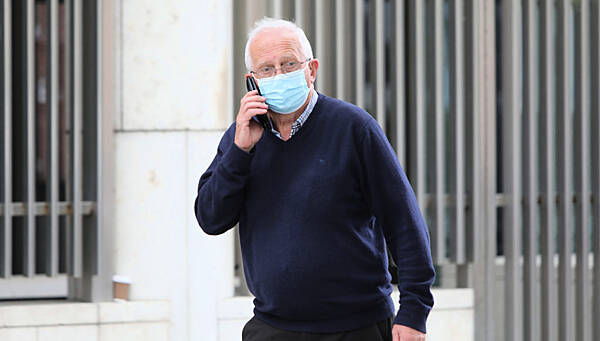 Eimear Dodd
A retired school principal and former Christian Brother will be sentenced later this year after pleading guilty to indecently assaulting one of his pupils over 40 years ago.
Paul Hendrick (75) of Croftwood Grove, Ballyfermot, pleaded guilty to 11 counts of indecently assaulting Kenneth Grace on dates between May 1980 and July 1984 at locations including in Dublin, Tipperary and Waterford.
Dublin Circuit Criminal Court heard on Wednesday that Mr Grace had waived his anonymity to allow Hendrick to be named.
Garda Detective Enda Dowling told Monica Leech BL, prosecuting, that the incidents started when the victim was aged 13 and a first-year student at CBS Westland Row. Hendrick was second-in-command at the school and later became principal. He has no previous convictions.
The court heard the complainant also received extra tuition from Hendrick and was asked to help with jobs around the school for which he received sweets and cans of Coke. As he got older, he was given cigarettes and allowed to use the school van.
Wrestling
The court heard that the abuse took place in a number of locations including the furnace room of the school, which the victim would be asked to clean. This room contained some gym equipment and the abuse started with Hendrick challenging the victim to see who could do more pull-ups.
This progressed to wrestling while initially fully clothed, though later they would both be in their underwear. Hendrick would restrain the victim during these incidents and Mr Grace recalls feeling Hendrick's erect penis against his back during these incidents.
The abuse escalated to include Hendrick stripping to his underwear and getting the victim to whip him or whipping the victim. The court heard Mr Grace's sister saw the marks on his back on one occasion. He told her Hendrick had done it.
These incidents also took place in a reception room of the priest's residence beside the school.
Isolated from classmates
The court heard the abuse continued over the summer months as Mr Grace would be brought to the school to carry out chores. Hendrick also indecently assaulted the victim during attended camping trips to a farm managed by the Christian Brothers in Co. Waterford and a house owned by the order in Clonmel, Co. Tipperary.
The court heard Mr Grace's father passed away when he was very young. He was afraid to tell anyone as he didn't understand what was happening.
The abuse continued until Mr Grace was around 17 when he could fight back and realised Hendrick's actions were wrong.
The garda detective said Mr Grace was isolated from his classmates during his time in the school. Hendrick would also shout at him during classes.
Mr Grace made a statement to gardaí in 2018.
In his victim impact statement, Mr Grace said he doesn't consider himself to be a "survivor of historic sexual abuse", but as someone who is trying to survive on a daily basis.
He said he had been a "happy child with happy memories" before he started at the school and Hendrick became the "father figure he'd never had". He said the betrayal he had experienced had made it difficult for him to trust others.
"Your actions turned my childhood and adult life into a battlefield," he said.
He said he hoped to see justice served and intended to live his life without guilt or shame.
"I'm not to blame. It wasn't my fault, it was your fault," he added.
Full apology
Philip Rahn SC, defending, said his client wished to offer a full apology to Mr Grace.
His client attended CBS as a child and joined the Christian Brothers when he was 14. He joined the teaching staff at CBS Westland Row in 1978 and became principal in 1981, a post he held until his retirement in 1994.
His client had a leadership role within the order, which was lost when these allegations came to light. Mr Rahn said Hendrick had suffered a "long fall from grace".
Mr Rahn handed in a number of testimonials from family and past pupils and a report from a forensic psychologist. Defence counsel said the report outlines that Hendrick had a poor understanding of sexuality and relationship matters at the time of the offending, but now recognises that he engaged in grooming behaviour which had a significant impact on the injured party.
He asked the court to take into consideration his client's guilty plea, age, lack of previous convictions and the passage of time since the offending occurred.
Judge Pauline Codd adjourned the case for finalisation and remanded Hendrick on continuing bail to appear again on July 10th.
If you have been affected by any of the issues raised in this article, you can call the national 24-hour Rape Crisis Helpline at 1800-77 8888, access text service and webchat options at drcc.ie/services/helpline/, or visit Rape Crisis Help.
In the case of an emergency, always dial 999/112.