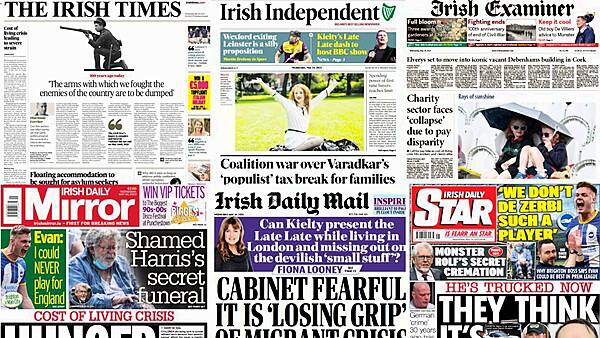 Floating accommodation for asylum seekers and a "Coalition war" over tax cuts make the front pages on Wednesday.
The Irish Times reports that the Government is planning to tender for floating accommodation to house asylum seekers. The paper also carries an article by historian Diarmaid Ferriter to mark the centenary of the end of the Civil War.
Homecare, disability, and addiction services are among organisations "facing collapse" because they cannot recruit staff, according to the Irish Examiner.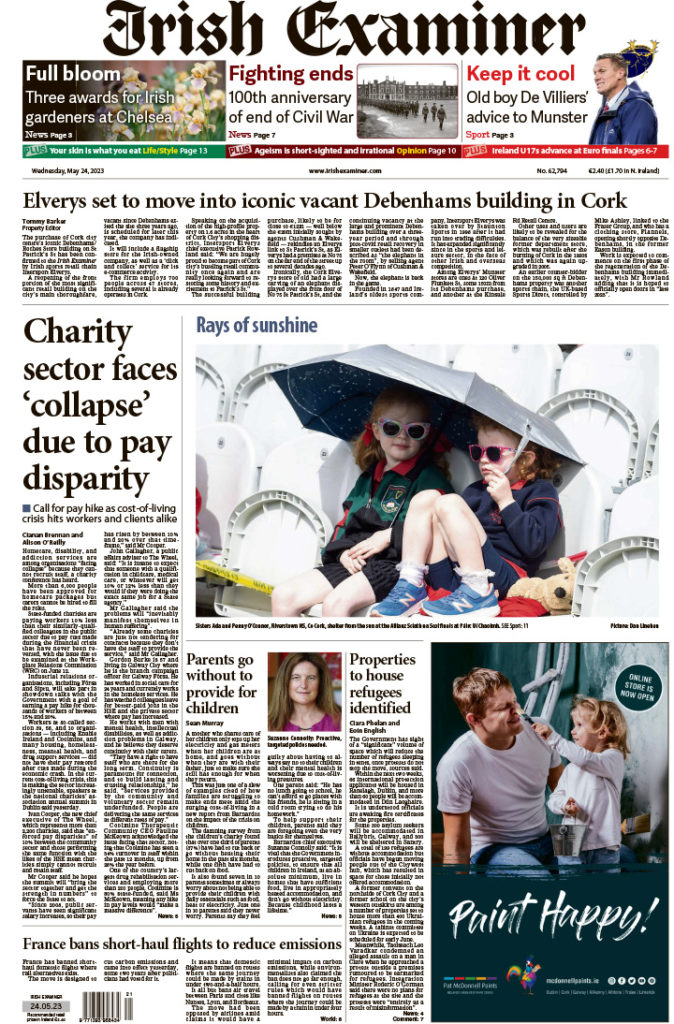 The Irish Independent says a row has broken out among coalition parties over Fine Gael's call for a €1,000 tax cut in the next budget.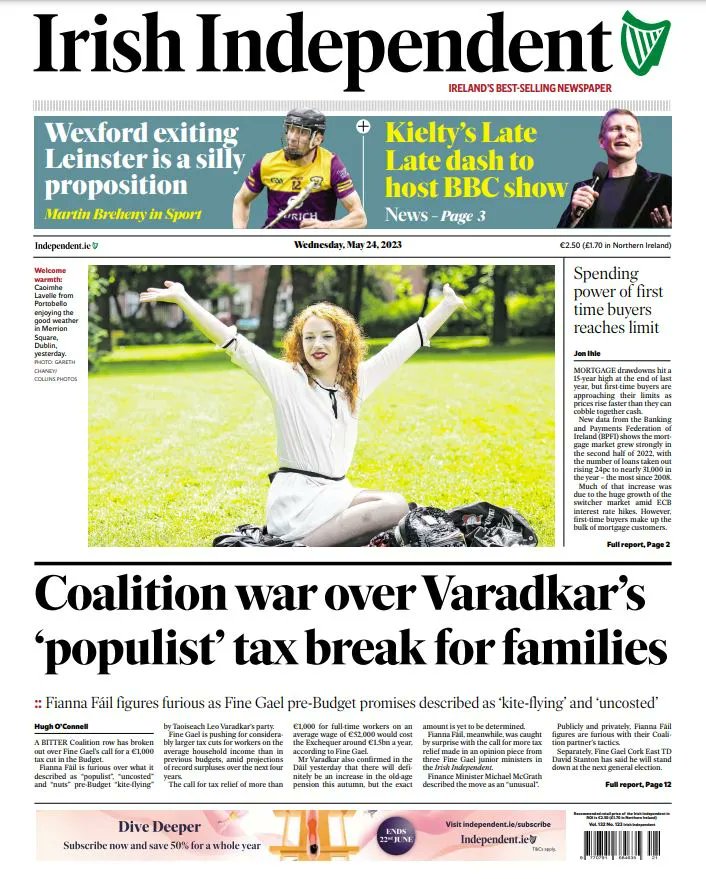 The Irish Daily Mail reports that Cabinet ministers fear they are "losing control" of the migration crisis.
A survey from Barnardos has found that 73 per cent of parents say the cost-of-living crisis has negatively affected their children over the past six months, the Irish Daily Mirror reports.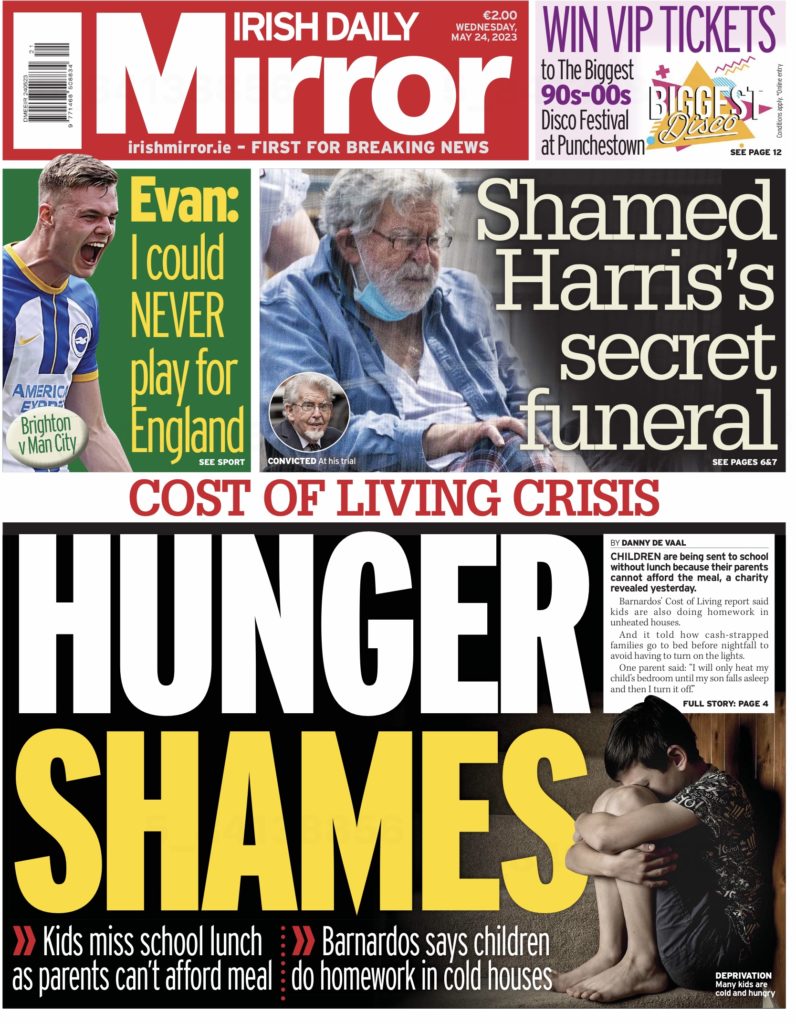 An Irishman convicted of his role in an international drugs smuggling conspiracy has been ordered to pay almost £630,000 to Britain's National Crime Agency, according to the Irish Daily Star.
The Belfast Telegraph says Queen's University has agreed to pay for the cremation of a pensioner after being unable to accept his body for medical science.
Former prime minister Boris Johnson's latest Covid-19 police probe leads the majority of British newspapers.
The Daily Mail says Mr Johnson is threatening to sue after extracts of his prime ministerial diaries were given to police.
Wednesday's @DailyMailUK #MailFrontPages pic.twitter.com/41WzoTzSSV

— Daily Mail U.K. (@DailyMailUK) May 23, 2023
The Daily Express and the Daily Telegraph report on allies of the former prime minister calling the decision to report him to the police over Covid-19 lockdown breaches a "stitch up".
Tomorrow's front page: Boris Johnson slams new 'witch hunt' lockdown breach claims as angry MPs rally round ex-PM #TomorrowsPapersToday https://t.co/qonpvb8NAb pic.twitter.com/wHgbYOfml3

— Daily Express (@Daily_Express) May 23, 2023
The front page of tomorrow's Daily Telegraph:

Johnson accused of Covid rule breaches#TomorrowsPapersToday

Sign up for the Front Page newsletterhttps://t.co/x8AV4OoUh6 pic.twitter.com/R70FQ3cMkf

— The Telegraph (@Telegraph) May 23, 2023
Both the Daily Mirror and the i focus on Mr Johnson breaking lockdown rules with friends at Chequers.
Wednesday's front page: Cops probe Boris AGAIN#TomorrowsPapersTodayhttps://t.co/IqiZdtXkIo pic.twitter.com/rabHPnBUPv

— The Mirror (@DailyMirror) May 23, 2023
Wednesday's front page: Johnson referred to police by Cabinet Office#TomorrowsPapersToday pic.twitter.com/mumbLU9jb7

— i newspaper (@theipaper) May 23, 2023
The Guardian follows suit, leading with the Cabinet Office referring Mr Johnson to the police.
Guardian front page, Wednesday 24 May 2023: Johnson referred to police over new claims of Covid rule breach pic.twitter.com/nn47K5CNEB

— The Guardian (@guardian) May 23, 2023
The Sun and the Metro plump for the same headline as they lead with the "secret funeral" of convicted paedophile Rolf Harris, who died at the age of 93 two weeks ago.
On tomorrow's front page: Paedophile Rolf Harris was secretly cremated after dying from cancer two weeks ago — in a final snub to his victimshttps://t.co/U2aBX0sfYl pic.twitter.com/8vYToJAl8P

— The Sun (@TheSun) May 23, 2023
Tomorrow's Paper Today 📰

VILE ROLF'S SECRET FUNERAL

🔴 Death not revealed for two weeks
🔴 Paedophile star's body cremated#TomorrowsPapersToday pic.twitter.com/kNni7huAcV

— Metro (@MetroUK) May 23, 2023
The Times looks at the economy with the International Monetary Fund urging British finance minister Jeremy Hunt not to cut taxes.
TIMES: Green quango blamed for blocking new homes #TomorrowsPapersToday pic.twitter.com/YidpKY8RgE

— Neil Henderson (@hendopolis) May 22, 2023
The Financial Times says the Bank of England has "big lessons to learn" after failing to spot high inflation.
Just published: front page of the Financial Times, UK edition, Wednesday 24 May https://t.co/NutcqIW50R pic.twitter.com/W0CDfK9nCb

— Financial Times (@FinancialTimes) May 23, 2023
And the Daily Star focuses on comedian Bob Mortimer saying he wants to die fighting a bear.
Wednesday's front page is a bit grizzly 🐻https://t.co/OHXFlimlMS#TomorrowsPapersToday pic.twitter.com/LdTLxhJSX2

— Daily Star (@dailystar) May 23, 2023